1 Bedroom, 1 Bath, Hot Tub
Sleeps 2
$1540 Low Season (Apr 16-Dec 14)
$2100 High Season (Dec 15-Apr 15)
Please note: We never advertise on Craigslist. We will never request guests to wire money directly to our bank accounts.
If you should encounter either of these please contact us directly to avoid fraud.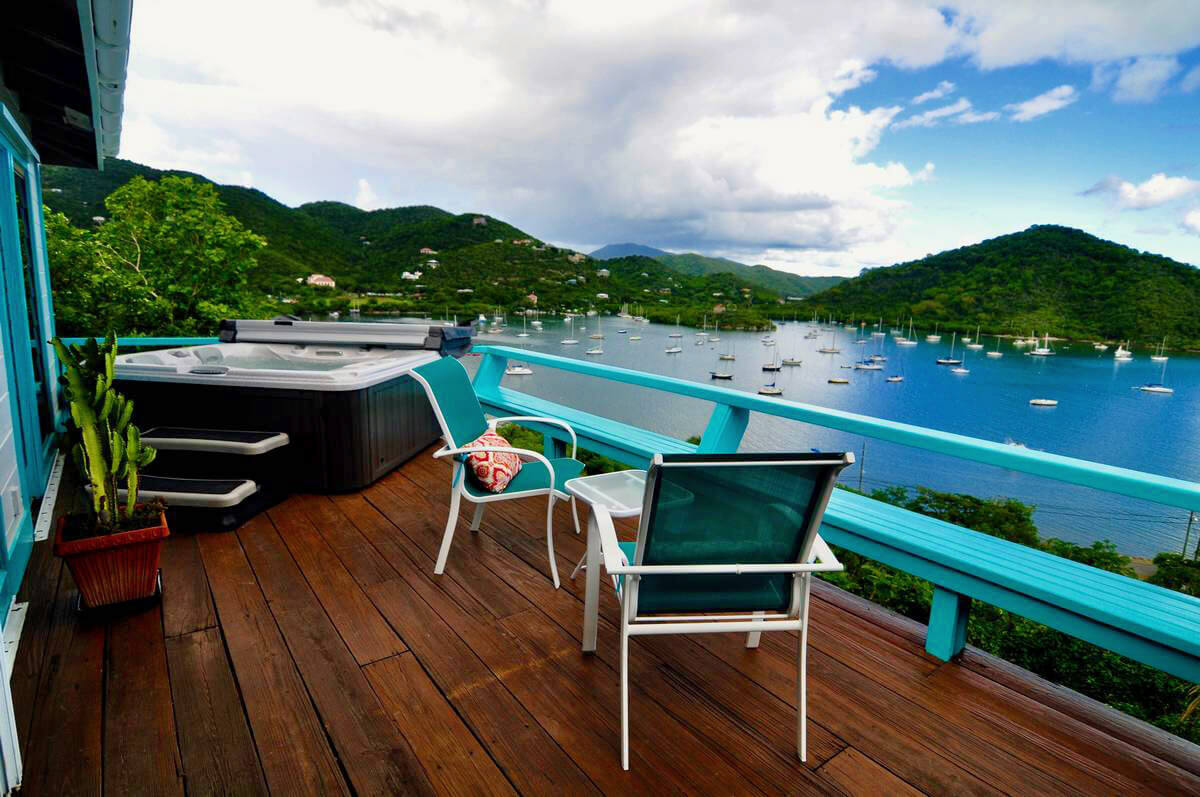 Welcome to Tortuga Cottage, the newest edition to Calabash Cottages. Tortuga is a cheerful and welcoming cottage with a gorgeous view of Coral Bay Harbor. This cottage has wonderful breezes, beautiful sunrises and moonrises, covered and uncovered decks plus a "hammock garden". There is a private hot tub overlooking the Caribbean sea For those who are familiar with Calabash Cottages, Tortuga Cottage is not in the same Calabash Boom location. The cottage is located just outside of Coral Bay. Although private, it is not as remote and secluded as Sago and Windwardside. On the other hand for our guests that have bemoaned the bumpy road, Tortuga could be your choice! This road is entirely paved and within walking distance of several bars and restaurants and shops.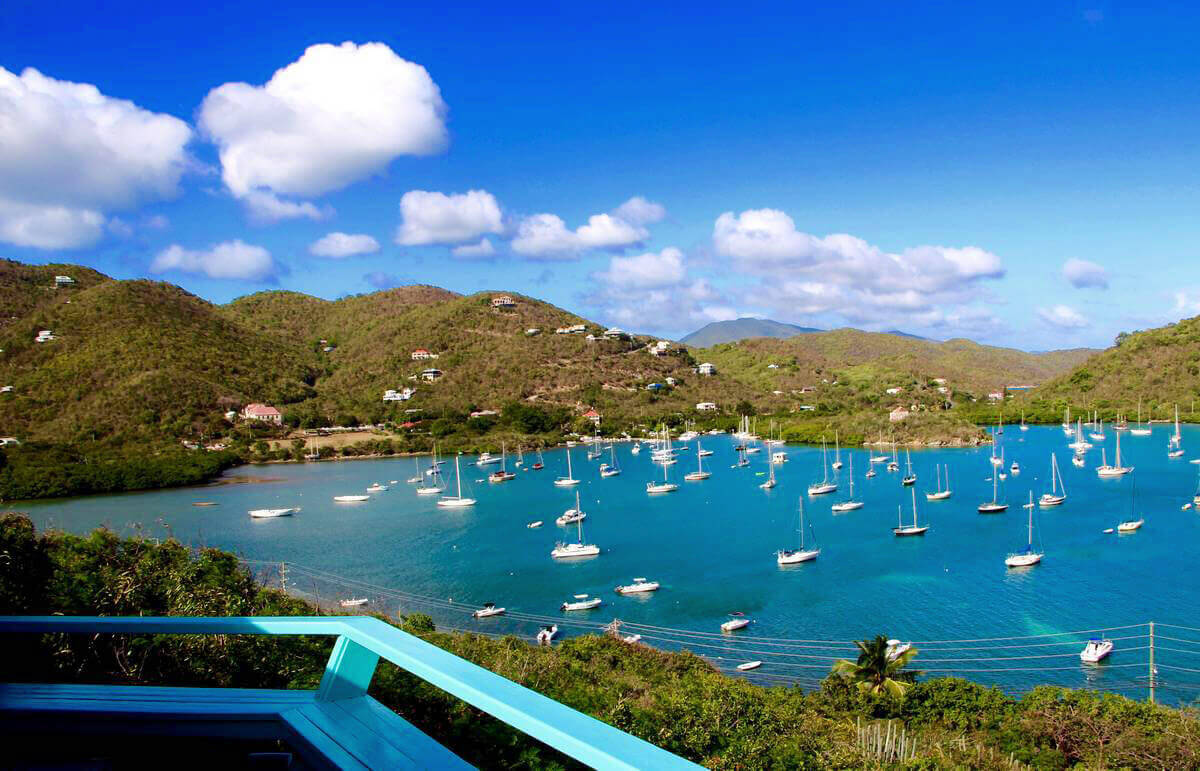 Sunny afternoons on our deck overlooking Coral Bay Harbor are delightful.
Enjoy the blue skies while still having the option to tuck into a the shade with a good book.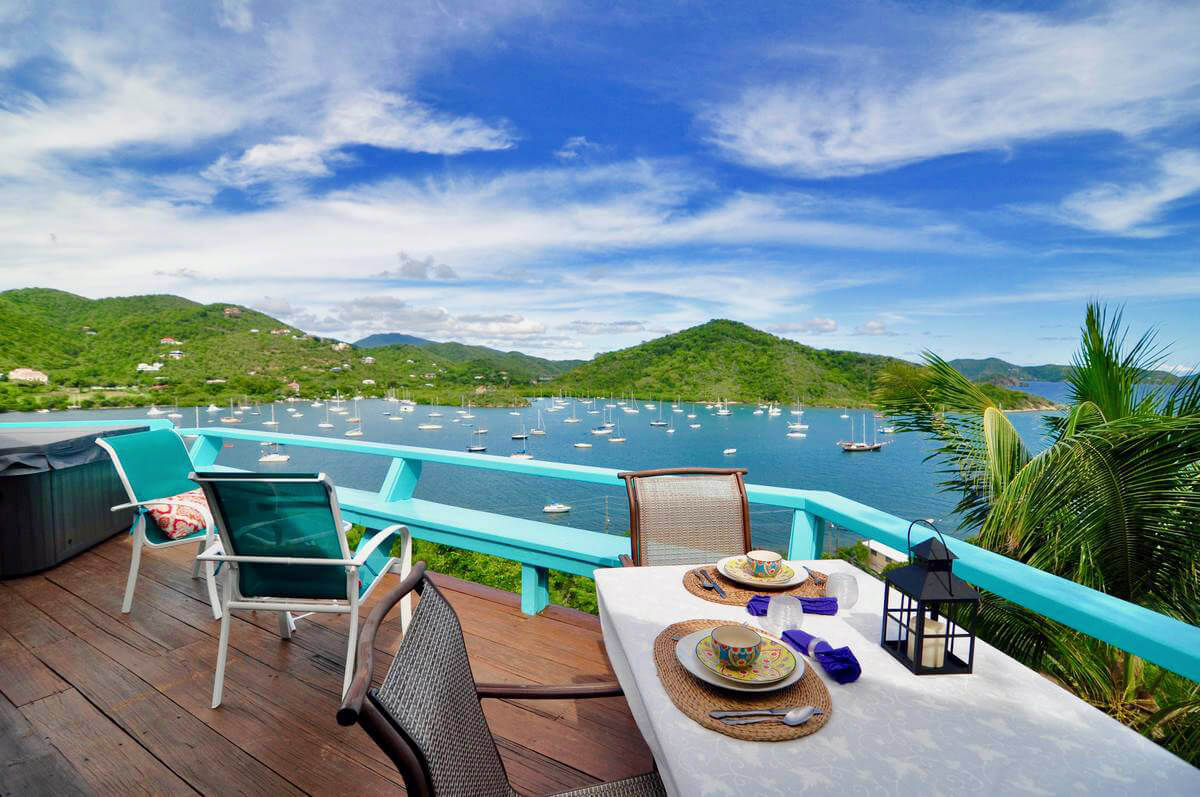 The uncovered deck contains a full sized dining table, a top quality spa and our favorite chairs to put our feet up and enjoy the end of the day. Our hot tub is lovely in the evening but it is also a great place to enjoy sunrise with your morning coffee.
Queen sized bedroom overlooks a beautiful view of ocean. Wake up to gorgeous sunrises or pull the curtains if sleeping in is on your vacation agenda. Although the bedroom is outfitted with a ductless mini split air conditioner which cools the room in minutes it also is in the direct line of fire of our delightful tradewinds. if you would prefer to drift off to sleep under tropical breezes to the sounds of the tree frogs that is also an option. There is a ceiling fan over the bed which has a high quality mattress.
Our full bath shown below has a hammered copper sink, roomy shower and charming Italian tiles and island made mahogany cabinets.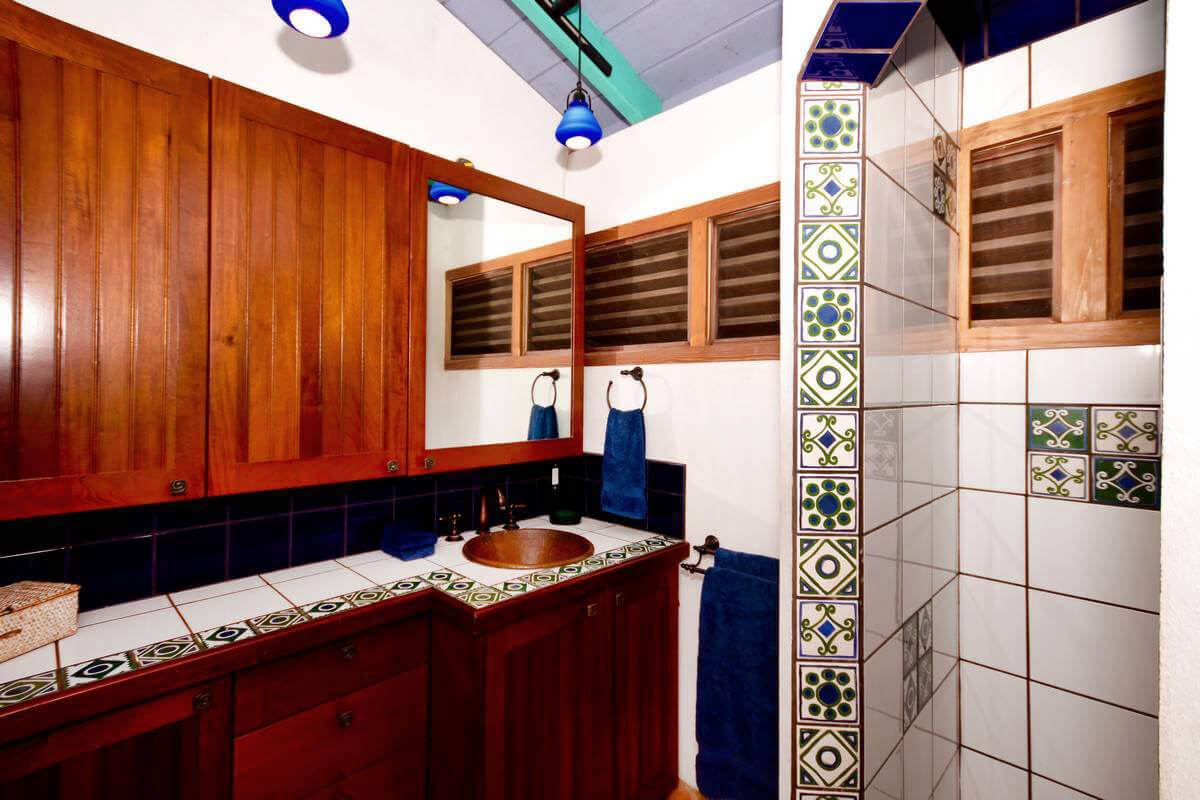 Tortuga Cottage is accessed by a very inviting covered deck. It contains a dining table which we think is the perfect breakfast nook when it's too sunny to sit on the uncovered deck but too delightful to be indoors. There are also two chairs to enjoy some time reading or watching the birds in the garden. The covered deck opens onto a hammock garden that is shaded from midday onwards.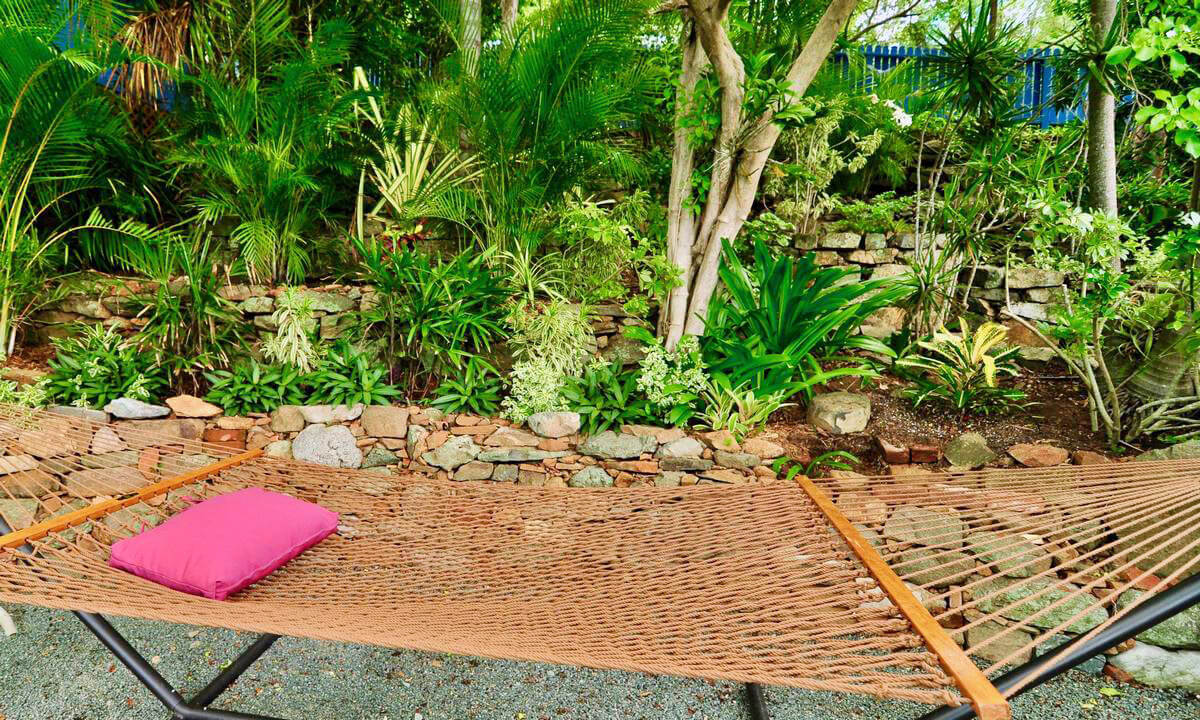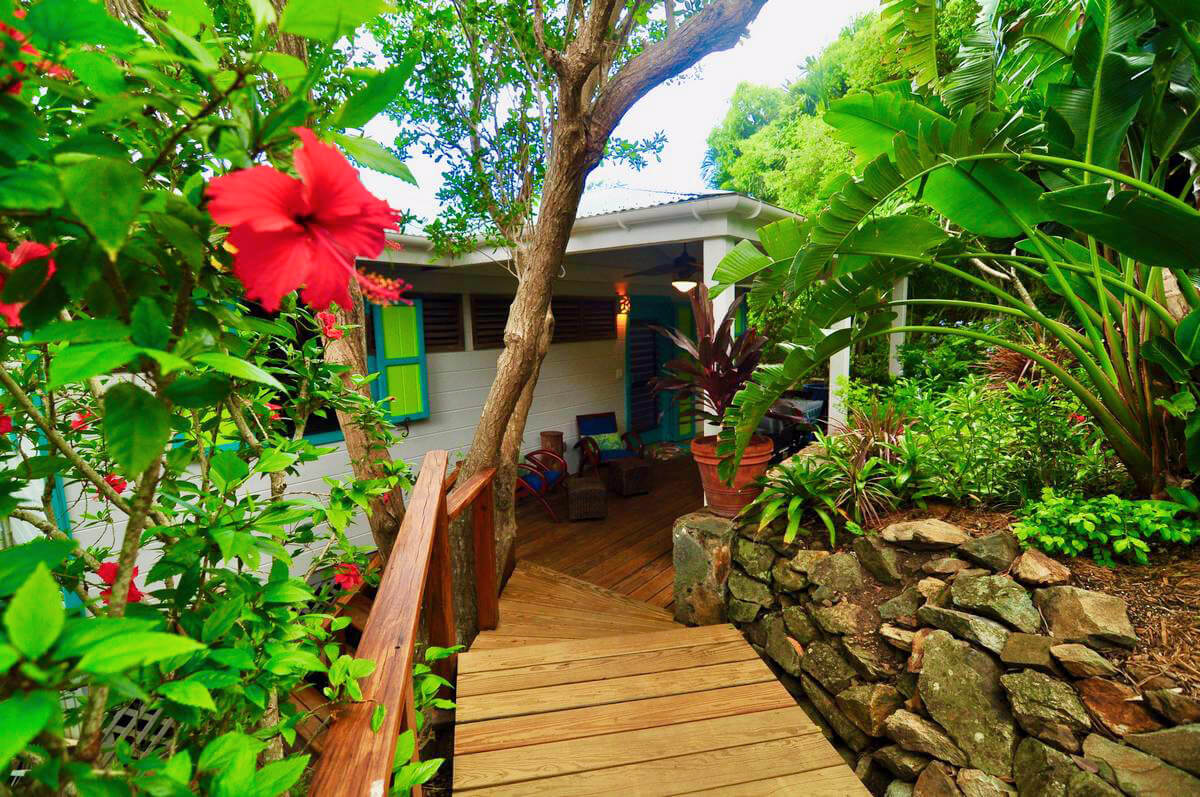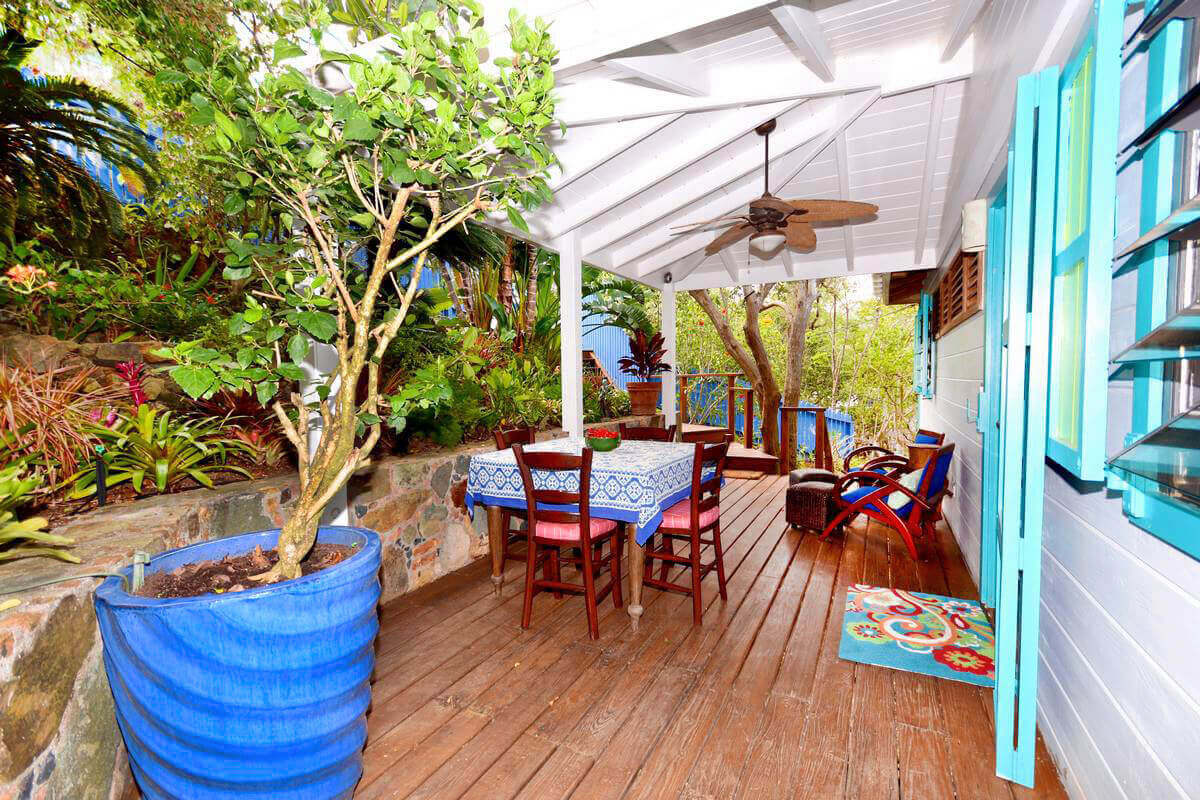 Enjoy the sugar birds, hummingbirds and our tropical gardens  under our covered deck or wander out to the hammock for a snooze or just to enjoy the breeze.  You will find no shortage of places to relax and rewind.   Tortuga Cottage invites you to enjoy the laid back vacation you've been dreaming of. We hope to see you soon!
Location: Coral Bay, St. John, U.S. Virgin Islands.
Tortuga Cottage is located in a hillside setting 130' above sea level. We are accessed via paved road.  Lovely white sand beaches, including Salt Pond Bay, Fancis Bay and Maho Bay are just a short drive as are national park hiking trails. Restaurants, shops and water sports are all available 1/4 mile in Coral Bay. The main town on the island, Cruz Bay, is located 8 miles away. The airport is in St. Thomas which is reached via a twenty minute ferry ride (Ferries leave every hour on the hour and cost $7 each way).
Amenities
Hot Tub
Snorkel Gear
Beach Chairs
Cooler
Beach Umbrella
BBQ
CD & VCR Player
Phone
Fresh Flowers
Robes, All Linens & Towels
Safe for Valuables
Wi-Fi Internet
Activities
We are happy to make suggestions for activities that suit your interests.  When you arrive at your cottage we will go over a map of the island and point out the best beaches, hiking trails, snorkel spots, etc.  Most activities can be arranged once you are on island but if you are planning a day on the water you may want to arrange that in advance. Consider Busy Bee Charters "Lap of St. John" on Wednesday for a really fun trip that departs right from Coral Bay.
Arrival
Tortuga Cottage is managed by on island owners. We will meet your ferry on arrival, arrange for discounted car rentals and provide the personal attention you need to make your stay with us as pleasant and relaxing as possible. We can also arrange for a driver to meet your flight for the 50 minute ride to the Red Hook ferry dock.
Availability Calendar for Tortuga Cottage
Calendar Updated on April 30, 2017 at 02:24 am
April 2017
| | | | | | | |
| --- | --- | --- | --- | --- | --- | --- |
| Sun | Mon | Tue | Wed | Thu | Fri | Sat |
| | | | | | | 1 |
| 2 | 3 | 4 | 5 | 6 | 7 | 8 |
| 9 | 10 | 11 | 12 | 13 | 14 | 15 |
| 16 | 17 | 18 | 19 | 20 | 21 | 22 |
| 23 | 24 | 25 | 26 | 27 | 28 | 29 |
| 30 | | | | | | |
May 2017
| | | | | | | |
| --- | --- | --- | --- | --- | --- | --- |
| Sun | Mon | Tue | Wed | Thu | Fri | Sat |
| | 1 | 2 | 3 | 4 | 5 | 6 |
| 7 | 8 | 9 | 10 | 11 | 12 | 13 |
| 14 | 15 | 16 | 17 | 18 | 19 | 20 |
| 21 | 22 | 23 | 24 | 25 | 26 | 27 |
| 28 | 29 | 30 | 31 | | | |
June 2017
| | | | | | | |
| --- | --- | --- | --- | --- | --- | --- |
| Sun | Mon | Tue | Wed | Thu | Fri | Sat |
| | | | | 1 | 2 | 3 |
| 4 | 5 | 6 | 7 | 8 | 9 | 10 |
| 11 | 12 | 13 | 14 | 15 | 16 | 17 |
| 18 | 19 | 20 | 21 | 22 | 23 | 24 |
| 25 | 26 | 27 | 28 | 29 | 30 | |
July 2017
| | | | | | | |
| --- | --- | --- | --- | --- | --- | --- |
| Sun | Mon | Tue | Wed | Thu | Fri | Sat |
| | | | | | | 1 |
| 2 | 3 | 4 | 5 | 6 | 7 | 8 |
| 9 | 10 | 11 | 12 | 13 | 14 | 15 |
| 16 | 17 | 18 | 19 | 20 | 21 | 22 |
| 23 | 24 | 25 | 26 | 27 | 28 | 29 |
| 30 | 31 | | | | | |
August 2017
| | | | | | | |
| --- | --- | --- | --- | --- | --- | --- |
| Sun | Mon | Tue | Wed | Thu | Fri | Sat |
| | | 1 | 2 | 3 | 4 | 5 |
| 6 | 7 | 8 | 9 | 10 | 11 | 12 |
| 13 | 14 | 15 | 16 | 17 | 18 | 19 |
| 20 | 21 | 22 | 23 | 24 | 25 | 26 |
| 27 | 28 | 29 | 30 | 31 | | |
September 2017
| | | | | | | |
| --- | --- | --- | --- | --- | --- | --- |
| Sun | Mon | Tue | Wed | Thu | Fri | Sat |
| | | | | | 1 | 2 |
| 3 | 4 | 5 | 6 | 7 | 8 | 9 |
| 10 | 11 | 12 | 13 | 14 | 15 | 16 |
| 17 | 18 | 19 | 20 | 21 | 22 | 23 |
| 24 | 25 | 26 | 27 | 28 | 29 | 30 |
October 2017
| | | | | | | |
| --- | --- | --- | --- | --- | --- | --- |
| Sun | Mon | Tue | Wed | Thu | Fri | Sat |
| 1 | 2 | 3 | 4 | 5 | 6 | 7 |
| 8 | 9 | 10 | 11 | 12 | 13 | 14 |
| 15 | 16 | 17 | 18 | 19 | 20 | 21 |
| 22 | 23 | 24 | 25 | 26 | 27 | 28 |
| 29 | 30 | 31 | | | | |
November 2017
| | | | | | | |
| --- | --- | --- | --- | --- | --- | --- |
| Sun | Mon | Tue | Wed | Thu | Fri | Sat |
| | | | 1 | 2 | 3 | 4 |
| 5 | 6 | 7 | 8 | 9 | 10 | 11 |
| 12 | 13 | 14 | 15 | 16 | 17 | 18 |
| 19 | 20 | 21 | 22 | 23 | 24 | 25 |
| 26 | 27 | 28 | 29 | 30 | | |
December 2017
| | | | | | | |
| --- | --- | --- | --- | --- | --- | --- |
| Sun | Mon | Tue | Wed | Thu | Fri | Sat |
| | | | | | 1 | 2 |
| 3 | 4 | 5 | 6 | 7 | 8 | 9 |
| 10 | 11 | 12 | 13 | 14 | 15 | 16 |
| 17 | 18 | 19 | 20 | 21 | 22 | 23 |
| 24 | 25 | 26 | 27 | 28 | 29 | 30 |
| 31 | | | | | | |
January 2018
| | | | | | | |
| --- | --- | --- | --- | --- | --- | --- |
| Sun | Mon | Tue | Wed | Thu | Fri | Sat |
| | 1 | 2 | 3 | 4 | 5 | 6 |
| 7 | 8 | 9 | 10 | 11 | 12 | 13 |
| 14 | 15 | 16 | 17 | 18 | 19 | 20 |
| 21 | 22 | 23 | 24 | 25 | 26 | 27 |
| 28 | 29 | 30 | 31 | | | |
February 2018
| | | | | | | |
| --- | --- | --- | --- | --- | --- | --- |
| Sun | Mon | Tue | Wed | Thu | Fri | Sat |
| | | | | 1 | 2 | 3 |
| 4 | 5 | 6 | 7 | 8 | 9 | 10 |
| 11 | 12 | 13 | 14 | 15 | 16 | 17 |
| 18 | 19 | 20 | 21 | 22 | 23 | 24 |
| 25 | 26 | 27 | 28 | | | |
March 2018
| | | | | | | |
| --- | --- | --- | --- | --- | --- | --- |
| Sun | Mon | Tue | Wed | Thu | Fri | Sat |
| | | | | 1 | 2 | 3 |
| 4 | 5 | 6 | 7 | 8 | 9 | 10 |
| 11 | 12 | 13 | 14 | 15 | 16 | 17 |
| 18 | 19 | 20 | 21 | 22 | 23 | 24 |
| 25 | 26 | 27 | 28 | 29 | 30 | 31 |
April 2018
| | | | | | | |
| --- | --- | --- | --- | --- | --- | --- |
| Sun | Mon | Tue | Wed | Thu | Fri | Sat |
| 1 | 2 | 3 | 4 | 5 | 6 | 7 |
| 8 | 9 | 10 | 11 | 12 | 13 | 14 |
| 15 | 16 | 17 | 18 | 19 | 20 | 21 |
| 22 | 23 | 24 | 25 | 26 | 27 | 28 |
| 29 | 30 | | | | | |
May 2018
| | | | | | | |
| --- | --- | --- | --- | --- | --- | --- |
| Sun | Mon | Tue | Wed | Thu | Fri | Sat |
| | | 1 | 2 | 3 | 4 | 5 |
| 6 | 7 | 8 | 9 | 10 | 11 | 12 |
| 13 | 14 | 15 | 16 | 17 | 18 | 19 |
| 20 | 21 | 22 | 23 | 24 | 25 | 26 |
| 27 | 28 | 29 | 30 | 31 | | |
June 2018
| | | | | | | |
| --- | --- | --- | --- | --- | --- | --- |
| Sun | Mon | Tue | Wed | Thu | Fri | Sat |
| | | | | | 1 | 2 |
| 3 | 4 | 5 | 6 | 7 | 8 | 9 |
| 10 | 11 | 12 | 13 | 14 | 15 | 16 |
| 17 | 18 | 19 | 20 | 21 | 22 | 23 |
| 24 | 25 | 26 | 27 | 28 | 29 | 30 |
July 2018
| | | | | | | |
| --- | --- | --- | --- | --- | --- | --- |
| Sun | Mon | Tue | Wed | Thu | Fri | Sat |
| 1 | 2 | 3 | 4 | 5 | 6 | 7 |
| 8 | 9 | 10 | 11 | 12 | 13 | 14 |
| 15 | 16 | 17 | 18 | 19 | 20 | 21 |
| 22 | 23 | 24 | 25 | 26 | 27 | 28 |
| 29 | 30 | 31 | | | | |
August 2018
| | | | | | | |
| --- | --- | --- | --- | --- | --- | --- |
| Sun | Mon | Tue | Wed | Thu | Fri | Sat |
| | | | 1 | 2 | 3 | 4 |
| 5 | 6 | 7 | 8 | 9 | 10 | 11 |
| 12 | 13 | 14 | 15 | 16 | 17 | 18 |
| 19 | 20 | 21 | 22 | 23 | 24 | 25 |
| 26 | 27 | 28 | 29 | 30 | 31 | |
September 2018
| | | | | | | |
| --- | --- | --- | --- | --- | --- | --- |
| Sun | Mon | Tue | Wed | Thu | Fri | Sat |
| | | | | | | 1 |
| 2 | 3 | 4 | 5 | 6 | 7 | 8 |
| 9 | 10 | 11 | 12 | 13 | 14 | 15 |
| 16 | 17 | 18 | 19 | 20 | 21 | 22 |
| 23 | 24 | 25 | 26 | 27 | 28 | 29 |
| 30 | | | | | | |
October 2018
| | | | | | | |
| --- | --- | --- | --- | --- | --- | --- |
| Sun | Mon | Tue | Wed | Thu | Fri | Sat |
| | 1 | 2 | 3 | 4 | 5 | 6 |
| 7 | 8 | 9 | 10 | 11 | 12 | 13 |
| 14 | 15 | 16 | 17 | 18 | 19 | 20 |
| 21 | 22 | 23 | 24 | 25 | 26 | 27 |
| 28 | 29 | 30 | 31 | | | |
November 2018
| | | | | | | |
| --- | --- | --- | --- | --- | --- | --- |
| Sun | Mon | Tue | Wed | Thu | Fri | Sat |
| | | | | 1 | 2 | 3 |
| 4 | 5 | 6 | 7 | 8 | 9 | 10 |
| 11 | 12 | 13 | 14 | 15 | 16 | 17 |
| 18 | 19 | 20 | 21 | 22 | 23 | 24 |
| 25 | 26 | 27 | 28 | 29 | 30 | |
December 2018
| | | | | | | |
| --- | --- | --- | --- | --- | --- | --- |
| Sun | Mon | Tue | Wed | Thu | Fri | Sat |
| | | | | | | 1 |
| 2 | 3 | 4 | 5 | 6 | 7 | 8 |
| 9 | 10 | 11 | 12 | 13 | 14 | 15 |
| 16 | 17 | 18 | 19 | 20 | 21 | 22 |
| 23 | 24 | 25 | 26 | 27 | 28 | 29 |
| 30 | 31 | | | | | |
January 2019
| | | | | | | |
| --- | --- | --- | --- | --- | --- | --- |
| Sun | Mon | Tue | Wed | Thu | Fri | Sat |
| | | 1 | 2 | 3 | 4 | 5 |
| 6 | 7 | 8 | 9 | 10 | 11 | 12 |
| 13 | 14 | 15 | 16 | 17 | 18 | 19 |
| 20 | 21 | 22 | 23 | 24 | 25 | 26 |
| 27 | 28 | 29 | 30 | 31 | | |
February 2019
| | | | | | | |
| --- | --- | --- | --- | --- | --- | --- |
| Sun | Mon | Tue | Wed | Thu | Fri | Sat |
| | | | | | 1 | 2 |
| 3 | 4 | 5 | 6 | 7 | 8 | 9 |
| 10 | 11 | 12 | 13 | 14 | 15 | 16 |
| 17 | 18 | 19 | 20 | 21 | 22 | 23 |
| 24 | 25 | 26 | 27 | 28 | | |
March 2019
| | | | | | | |
| --- | --- | --- | --- | --- | --- | --- |
| Sun | Mon | Tue | Wed | Thu | Fri | Sat |
| | | | | | 1 | 2 |
| 3 | 4 | 5 | 6 | 7 | 8 | 9 |
| 10 | 11 | 12 | 13 | 14 | 15 | 16 |
| 17 | 18 | 19 | 20 | 21 | 22 | 23 |
| 24 | 25 | 26 | 27 | 28 | 29 | 30 |
| 31 | | | | | | |
April 2019
| | | | | | | |
| --- | --- | --- | --- | --- | --- | --- |
| Sun | Mon | Tue | Wed | Thu | Fri | Sat |
| | 1 | 2 | 3 | 4 | 5 | 6 |
| 7 | 8 | 9 | 10 | 11 | 12 | 13 |
| 14 | 15 | 16 | 17 | 18 | 19 | 20 |
| 21 | 22 | 23 | 24 | 25 | 26 | 27 |
| 28 | 29 | 30 | | | | |
May 2019
| | | | | | | |
| --- | --- | --- | --- | --- | --- | --- |
| Sun | Mon | Tue | Wed | Thu | Fri | Sat |
| | | | 1 | 2 | 3 | 4 |
| 5 | 6 | 7 | 8 | 9 | 10 | 11 |
| 12 | 13 | 14 | 15 | 16 | 17 | 18 |
| 19 | 20 | 21 | 22 | 23 | 24 | 25 |
| 26 | 27 | 28 | 29 | 30 | 31 | |
June 2019
| | | | | | | |
| --- | --- | --- | --- | --- | --- | --- |
| Sun | Mon | Tue | Wed | Thu | Fri | Sat |
| | | | | | | 1 |
| 2 | 3 | 4 | 5 | 6 | 7 | 8 |
| 9 | 10 | 11 | 12 | 13 | 14 | 15 |
| 16 | 17 | 18 | 19 | 20 | 21 | 22 |
| 23 | 24 | 25 | 26 | 27 | 28 | 29 |
| 30 | | | | | | |
July 2019
| | | | | | | |
| --- | --- | --- | --- | --- | --- | --- |
| Sun | Mon | Tue | Wed | Thu | Fri | Sat |
| | 1 | 2 | 3 | 4 | 5 | 6 |
| 7 | 8 | 9 | 10 | 11 | 12 | 13 |
| 14 | 15 | 16 | 17 | 18 | 19 | 20 |
| 21 | 22 | 23 | 24 | 25 | 26 | 27 |
| 28 | 29 | 30 | 31 | | | |
August 2019
| | | | | | | |
| --- | --- | --- | --- | --- | --- | --- |
| Sun | Mon | Tue | Wed | Thu | Fri | Sat |
| | | | | 1 | 2 | 3 |
| 4 | 5 | 6 | 7 | 8 | 9 | 10 |
| 11 | 12 | 13 | 14 | 15 | 16 | 17 |
| 18 | 19 | 20 | 21 | 22 | 23 | 24 |
| 25 | 26 | 27 | 28 | 29 | 30 | 31 |
September 2019
| | | | | | | |
| --- | --- | --- | --- | --- | --- | --- |
| Sun | Mon | Tue | Wed | Thu | Fri | Sat |
| 1 | 2 | 3 | 4 | 5 | 6 | 7 |
| 8 | 9 | 10 | 11 | 12 | 13 | 14 |
| 15 | 16 | 17 | 18 | 19 | 20 | 21 |
| 22 | 23 | 24 | 25 | 26 | 27 | 28 |
| 29 | 30 | | | | | |
October 2019
| | | | | | | |
| --- | --- | --- | --- | --- | --- | --- |
| Sun | Mon | Tue | Wed | Thu | Fri | Sat |
| | | 1 | 2 | 3 | 4 | 5 |
| 6 | 7 | 8 | 9 | 10 | 11 | 12 |
| 13 | 14 | 15 | 16 | 17 | 18 | 19 |
| 20 | 21 | 22 | 23 | 24 | 25 | 26 |
| 27 | 28 | 29 | 30 | 31 | | |
November 2019
| | | | | | | |
| --- | --- | --- | --- | --- | --- | --- |
| Sun | Mon | Tue | Wed | Thu | Fri | Sat |
| | | | | | 1 | 2 |
| 3 | 4 | 5 | 6 | 7 | 8 | 9 |
| 10 | 11 | 12 | 13 | 14 | 15 | 16 |
| 17 | 18 | 19 | 20 | 21 | 22 | 23 |
| 24 | 25 | 26 | 27 | 28 | 29 | 30 |
December 2019
| | | | | | | |
| --- | --- | --- | --- | --- | --- | --- |
| Sun | Mon | Tue | Wed | Thu | Fri | Sat |
| 1 | 2 | 3 | 4 | 5 | 6 | 7 |
| 8 | 9 | 10 | 11 | 12 | 13 | 14 |
| 15 | 16 | 17 | 18 | 19 | 20 | 21 |
| 22 | 23 | 24 | 25 | 26 | 27 | 28 |
| 29 | 30 | 31 | | | | |
January 2020
| | | | | | | |
| --- | --- | --- | --- | --- | --- | --- |
| Sun | Mon | Tue | Wed | Thu | Fri | Sat |
| | | | 1 | 2 | 3 | 4 |
| 5 | 6 | 7 | 8 | 9 | 10 | 11 |
| 12 | 13 | 14 | 15 | 16 | 17 | 18 |
| 19 | 20 | 21 | 22 | 23 | 24 | 25 |
| 26 | 27 | 28 | 29 | 30 | 31 | |
February 2020
| | | | | | | |
| --- | --- | --- | --- | --- | --- | --- |
| Sun | Mon | Tue | Wed | Thu | Fri | Sat |
| | | | | | | 1 |
| 2 | 3 | 4 | 5 | 6 | 7 | 8 |
| 9 | 10 | 11 | 12 | 13 | 14 | 15 |
| 16 | 17 | 18 | 19 | 20 | 21 | 22 |
| 23 | 24 | 25 | 26 | 27 | 28 | 29 |
March 2020
| | | | | | | |
| --- | --- | --- | --- | --- | --- | --- |
| Sun | Mon | Tue | Wed | Thu | Fri | Sat |
| 1 | 2 | 3 | 4 | 5 | 6 | 7 |
| 8 | 9 | 10 | 11 | 12 | 13 | 14 |
| 15 | 16 | 17 | 18 | 19 | 20 | 21 |
| 22 | 23 | 24 | 25 | 26 | 27 | 28 |
| 29 | 30 | 31 | | | | |