St John has two towns. Cruz Bay is where the passenger ferry and car ferry arrive. Coral Bay is a 30 minute drive across the island and is considered the "quieter side" of the island. We do have plenty of restaurants shops plus several grocery stores. If you want to spend all your evenings bar hopping then Cruz Bay is the place for you. If that is not your thing, then here are the top reasons to stay in Coral Bay:
Relaxed Atmosphere and caring community
Coral Bay really is the mellower side of the island. While there are plenty of restaurants with live music, and great shops with unique gifts, Coral Bay basically shuts down by 10pm. You will immediately notice the great community feeling in Coral Bay. We know each other, talk to each other and really pull together to help each other when the need arises Pull up a bar stool next to a local and you will likely have a lively conversation. We have quirky events like the Labor Day Parade, Coral Bay Open (mini golf tournament), the Bizarre bazaar, a local style Christmas fair and the Christmas Carol neighborhood sing off. Basically, Coral Bay is just plain fun and very welcoming.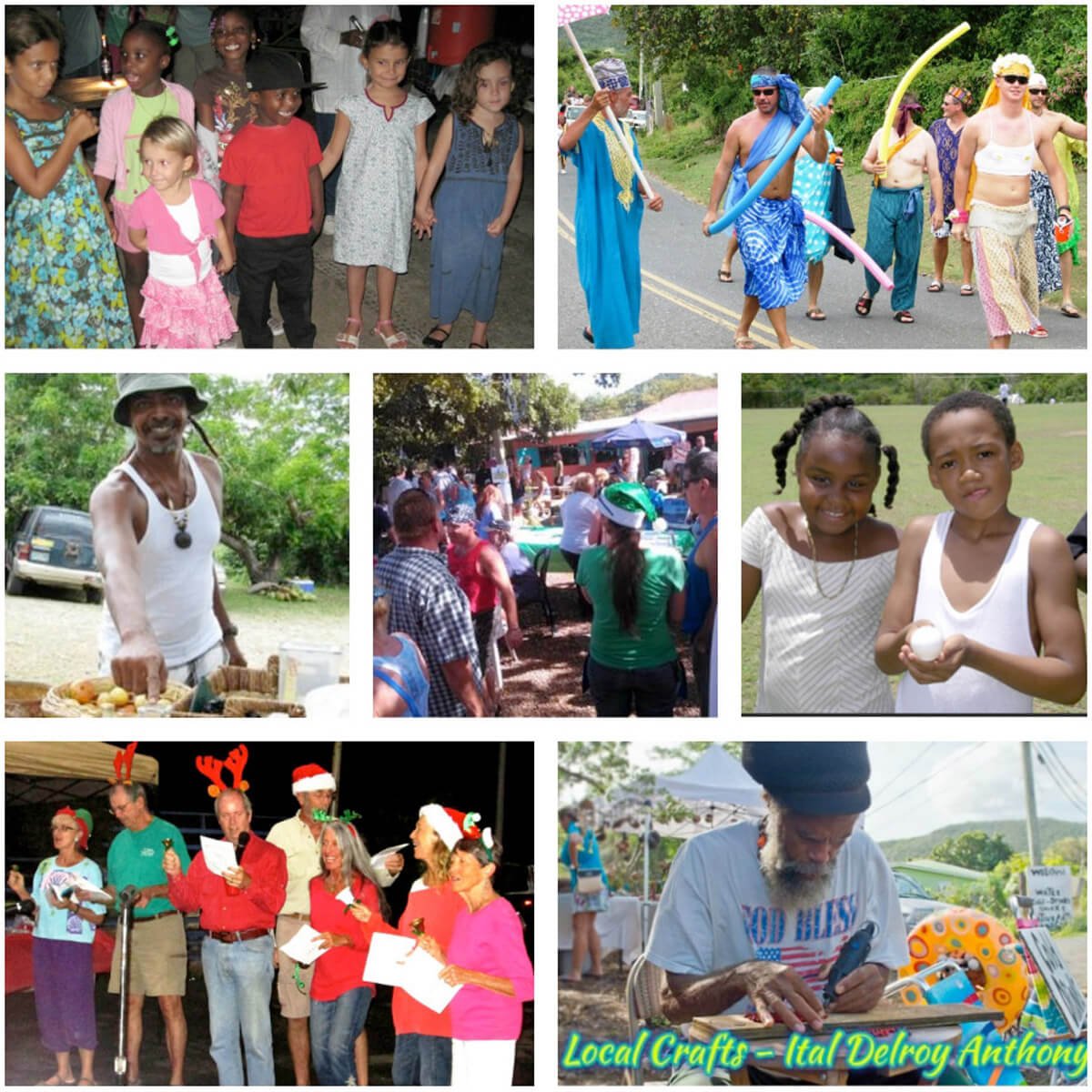 Natural Beauty
This comes in many ways shapes and forms. All our cottages are in quiet areas without man-made noise. They are landscaped with many flowers that attract
hummingbirds. There are geckos and anoles and iguanas that scurry along the outdoor areas. There are bananaquits (sugar birds) that will visit in the morning if
you entice them with sugar. Less light pollution means you can stargaze to your hearts content. Whether it's on your rental house's deck, in a hot tub, or one of
Coral Bay's open air restaurants, there are plenty of opportunities to enjoy the night sky. All of our rentals face east, so you may also catch a Moon Rise.
Afterwards, drift off to sleep with the distinctively tropical sound of tree frogs in the background.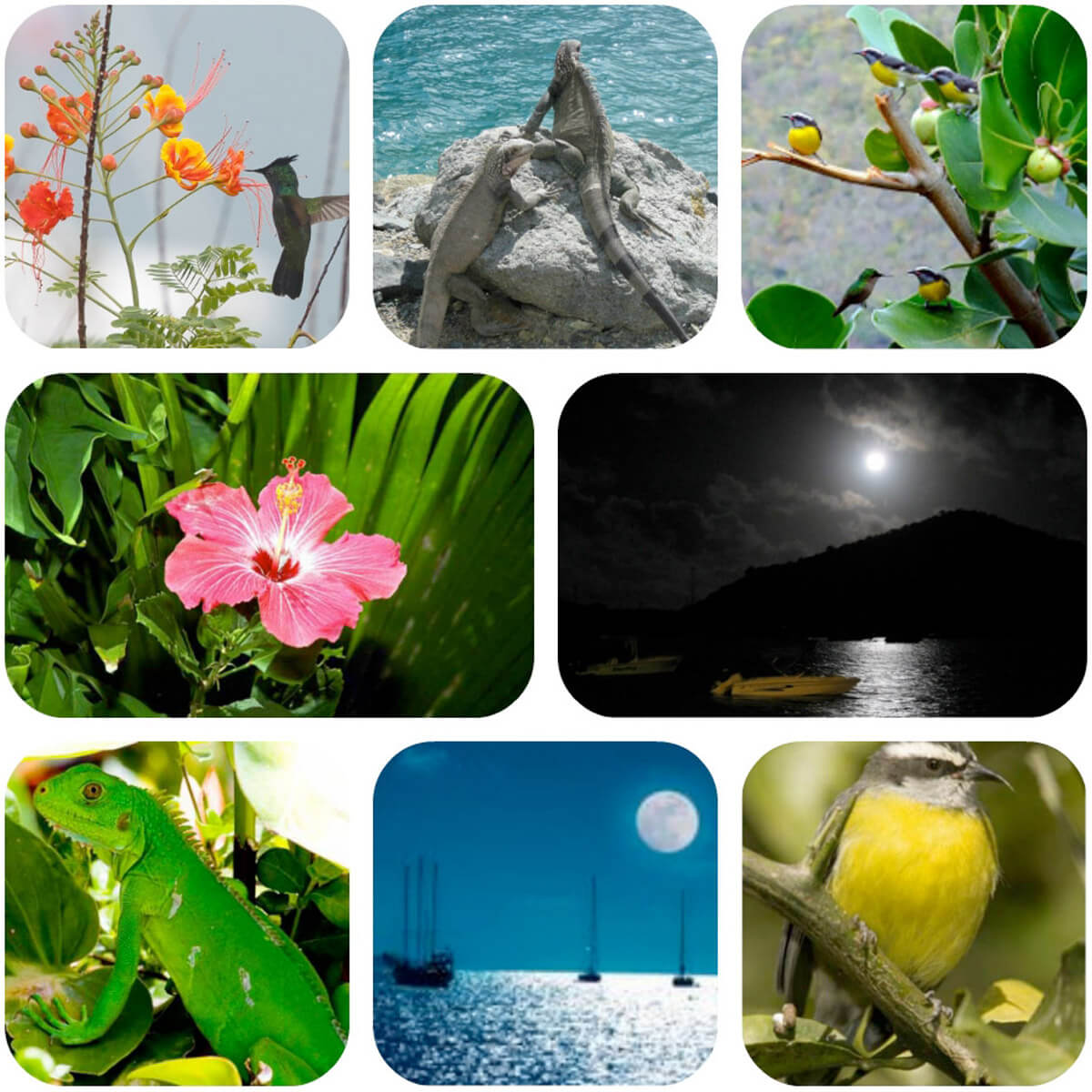 Cooling Tradewinds
The houses in Coral Bay are often situated in the hillside and designed to catch the cooling trade winds. Buildings aren't as congested as they are in Cruz Bay, so
there is nothing blocking the breeze. The breezes (with the help of some ceiling fans) keep the temperature comfortable without the need of air conditioning.
Sunrise
I have to admit that Cruz Bay has some pretty stunning sunsets, but Coral Bay has equally stunning sunrises. If you are an early riser there is nothing better than enjoying a morning cup of coffee on the porch watching the sunrise.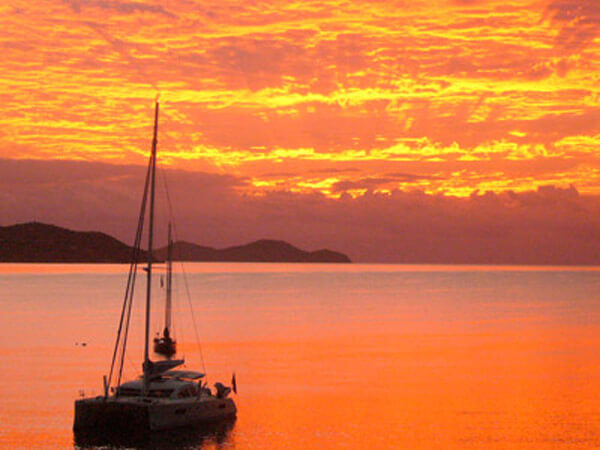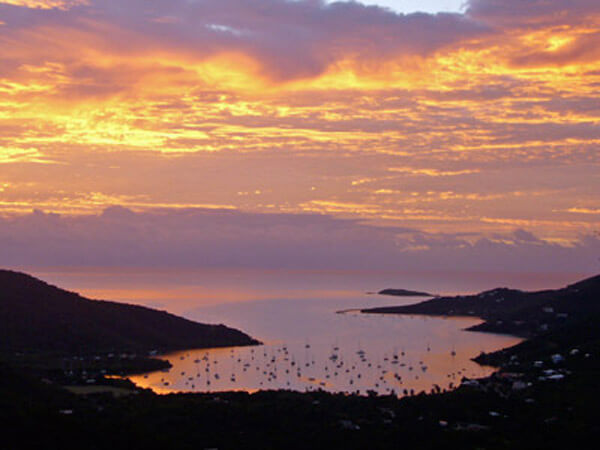 Mangrove Snorkeling
There are many great snorkel spots around St John, but one unique thing that Coral Bay has is Hurricane Hole. It is part of the National Monument and is made up of three smaller bays: Water, Otter, and Princess. All three bays are lined with Mangroves. Mangroves are unique because the root system is in shallow water and is home to a variety of juvenile fish. It's also one of the places where you consistently can see starfish. Charter boats need a special permit to access Hurricane Hole, so if you would like to see it by boat you can book with SerenaSea. If you would like to access it by kayak or paddle board, then you can contact Reef 2 Peak. They have guided tours that explore hurricane hole. If you want to explore it on your own, they also do equipment delivery all over St John.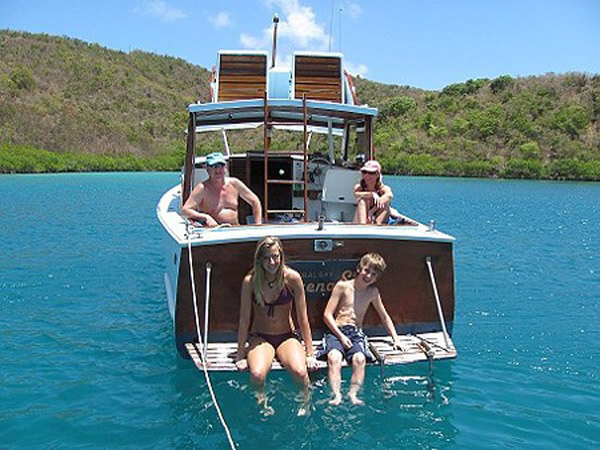 Activities and Boats, Boats, Boats
When you start your activities and adventures in Coral Bay you are don't have to travel to get to the most beautiful places. You are already there! There are several Coral Bay businesses that provide all the water sports options you could possibly want. Whether it's kayaking, paddle boarding, sailing, snorkeling, or visiting the BVIs, there is a Coral Bay business that can take care of you! A lot of the day trip destinations from Coral Bay are only accessible by boat which means you can avoid the crowds, even in the busy winter months. Most of the boats take a maximum of 6 passengers which ensures you will get personal attention from your captain.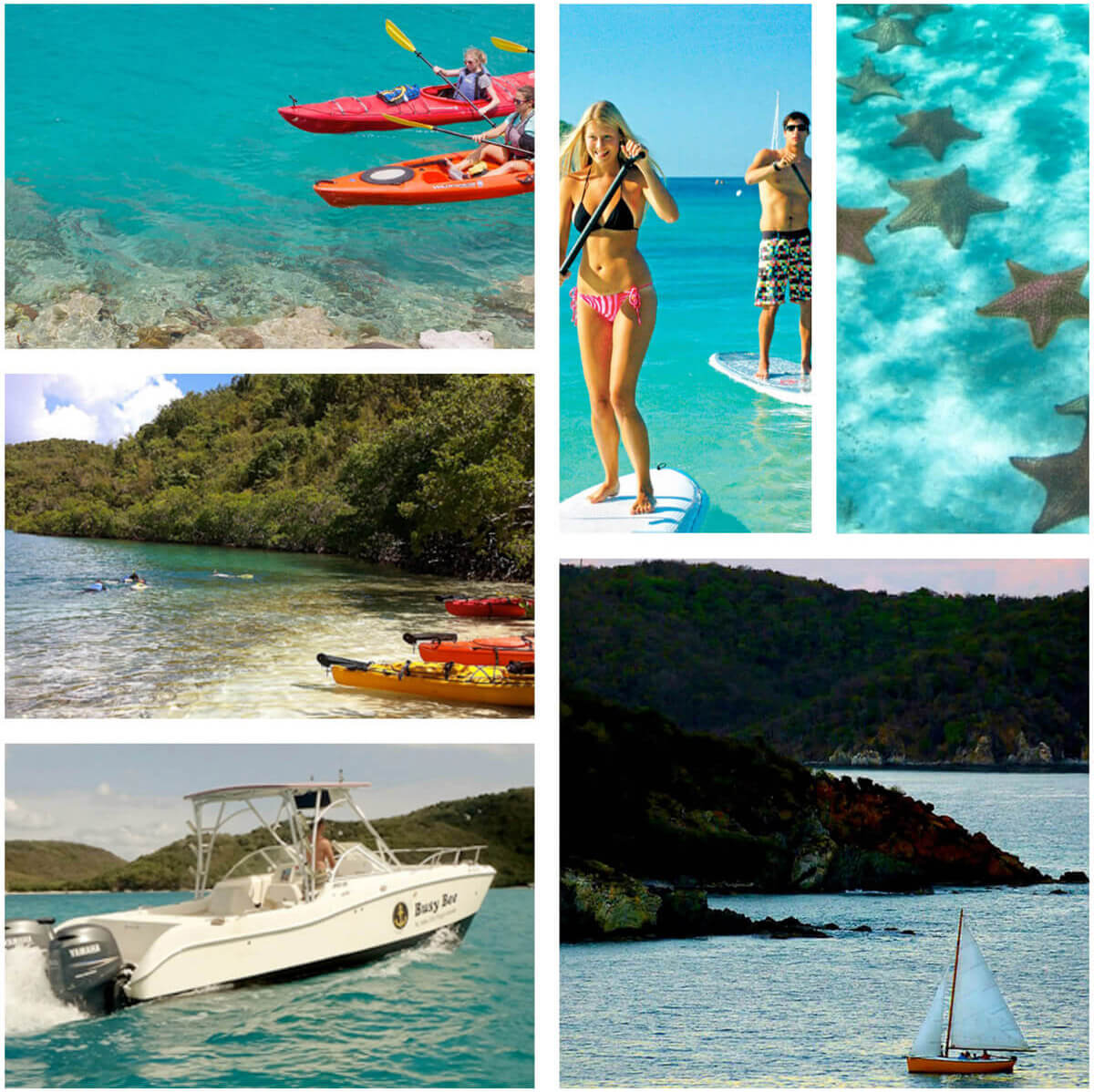 Salt Pond, Drunk Bay and the Reef Bay Trail
Salt Pond Bay is our nearest beach and one of the nicest. It has great snorkeling and it's a great spot to see sea turtles as well. If you are on island during the full moon consider a romantic moon lit swim that you will never forget.
One of my personal favorite hikes is the Ram Head hike that starts at the end of the beach at Salt Pond. It is one mile out to the bluff, and then one mile to return to the beach. It is on the south side of the island which is more arid than tropical. The vegetation is mostly cacti and low brush. As a result this hike is uncovered which affords great views from multiple points on the trail. I would recommend doing this hike earlier in the morning, or on a cloudy day because there is little shade in the middle of the day. It is also a popular full moon hike.
Salt pond is so named because it is home to a salt pond. While salt ponds look like giant mud puddles, they are a lot more interesting. They are their own unique ecosystem that are home to birds. In drought conditions the water dries up and leaves behind salt crystals which can be harvested and consumed.
Drunk Bay is a short walk from the beach at Salt Pond. It's not a good place to swim because the water is rough and the beach is rocky. But the best reason to visit is because it is a popular place for people to build sculptures or leave messages made out of Coral and driftwood. Typical Coral Bay silliness.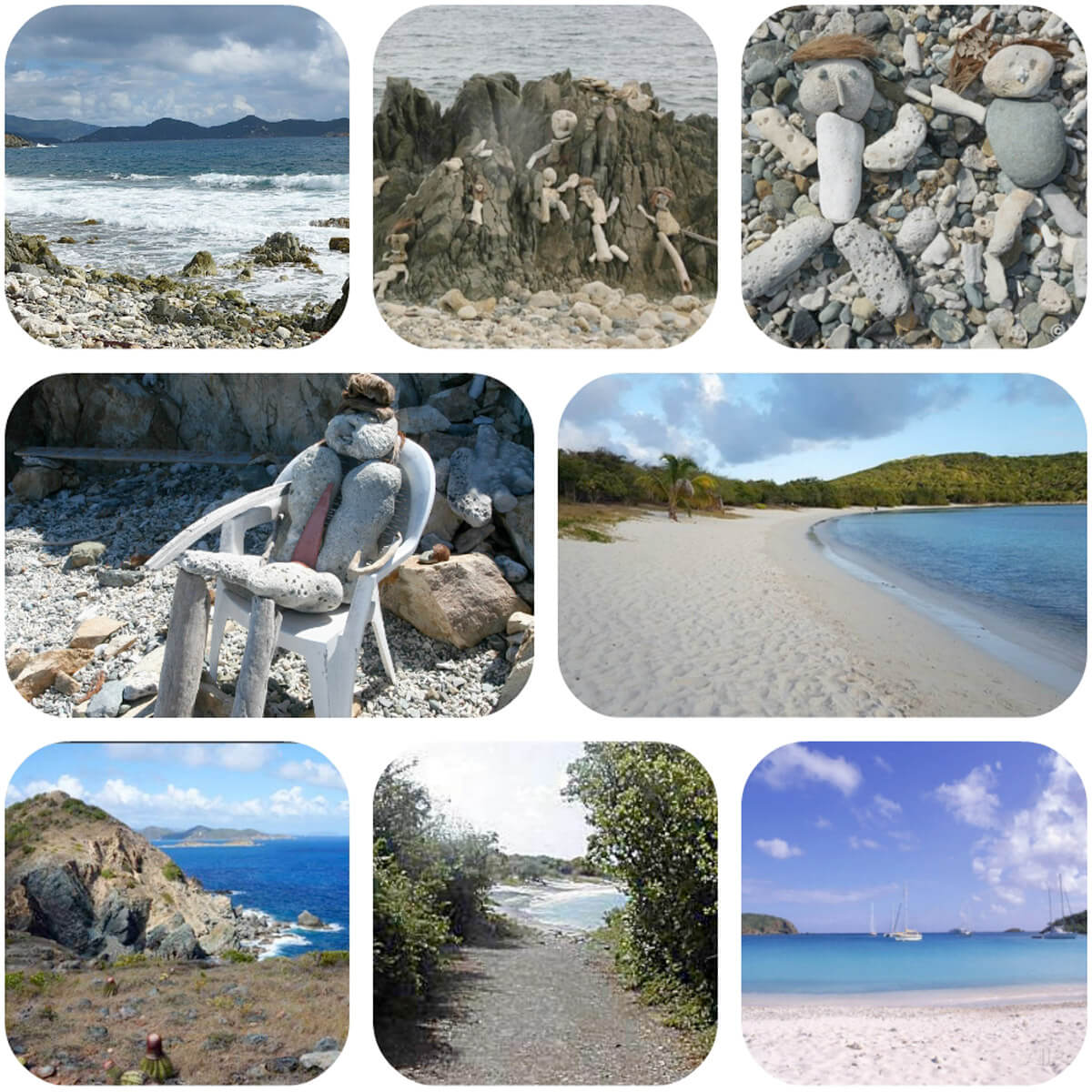 Music and Fun!