1 Bedroom, 1 Bath, Hot Tub
Sleeps 2
$1680 Low Season (Apr 16-Dec 14)
$1990 High Season (Dec 15-Apr 15)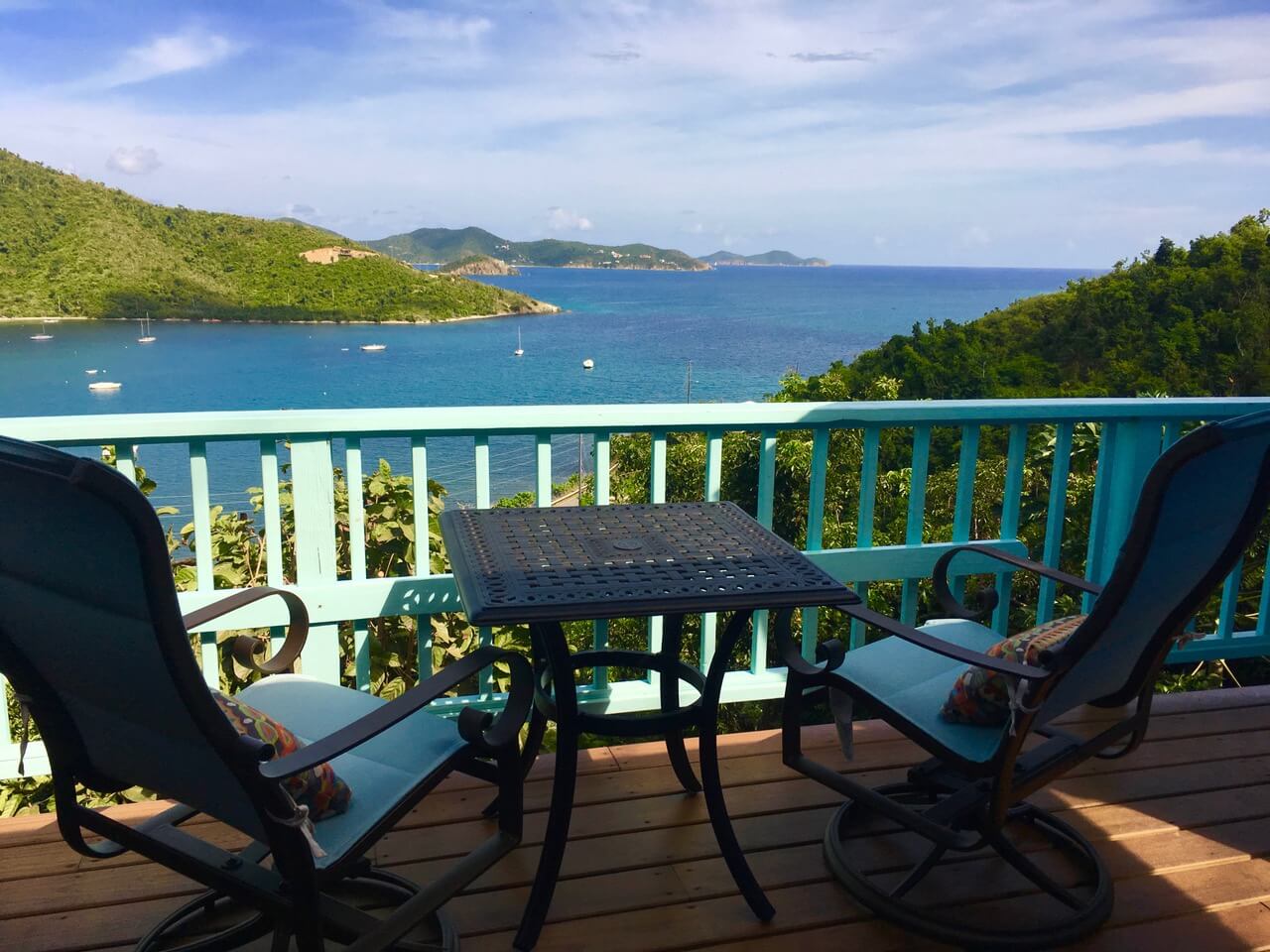 Welcome to Lily Cottage, our newest addition to the Calabash Cottages group. Lily Cottage was lovingly and painstakingly restored over two slow years after the 2017 hurricanes. Let's cut to what you want to know: It does have a lovely view and a private deck with a spa over looking Coral Bay and out to sea. The cottage consists of two small buildings. The living area is separated from the bedroom by decks and an outdoor shower. It is located on the outskirts of Coral Bay with numerous shops and restaurants. Access is via paved road and you are a short drive from the North Shore beaches, the East End beaches as well as Salt Pond Bay on the South Side. If you are planning a day on the water there are many boating options within a five minute drive.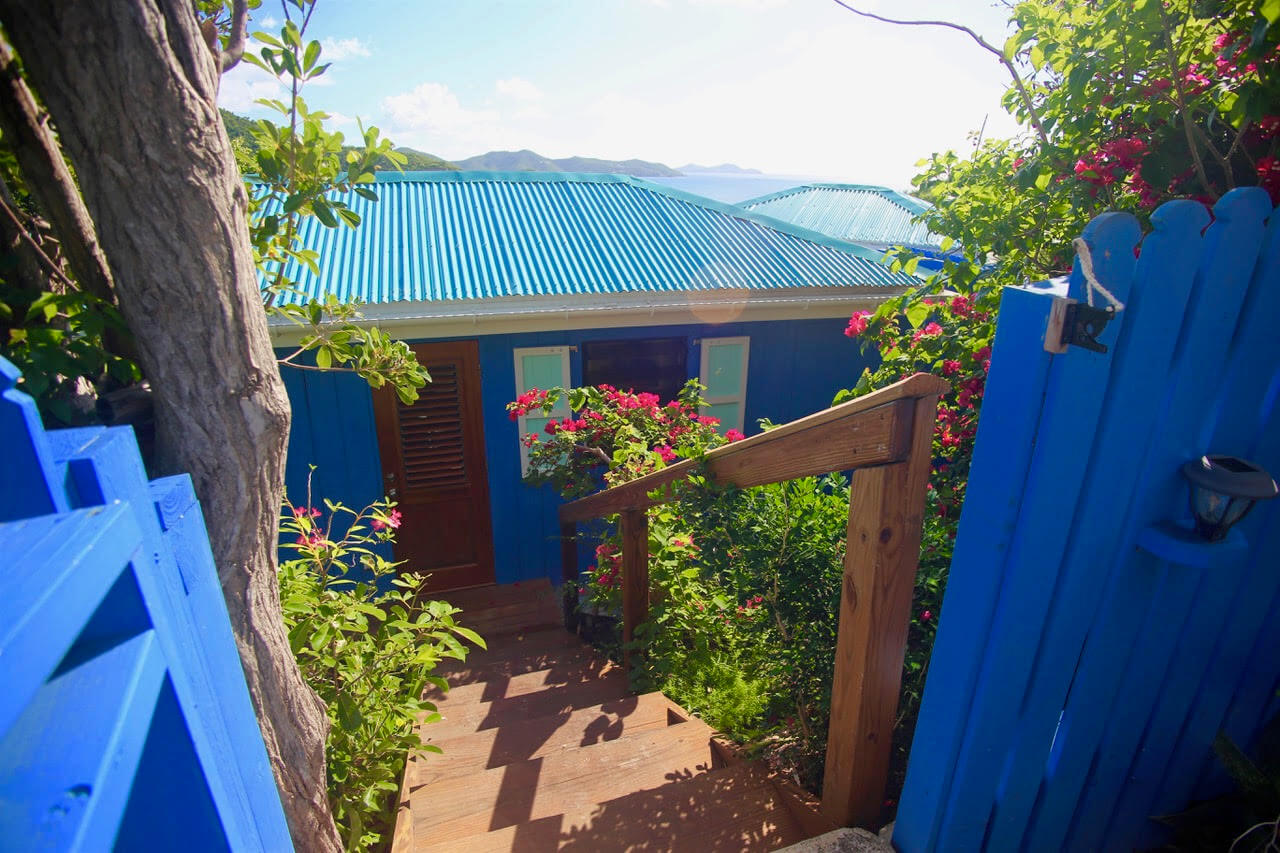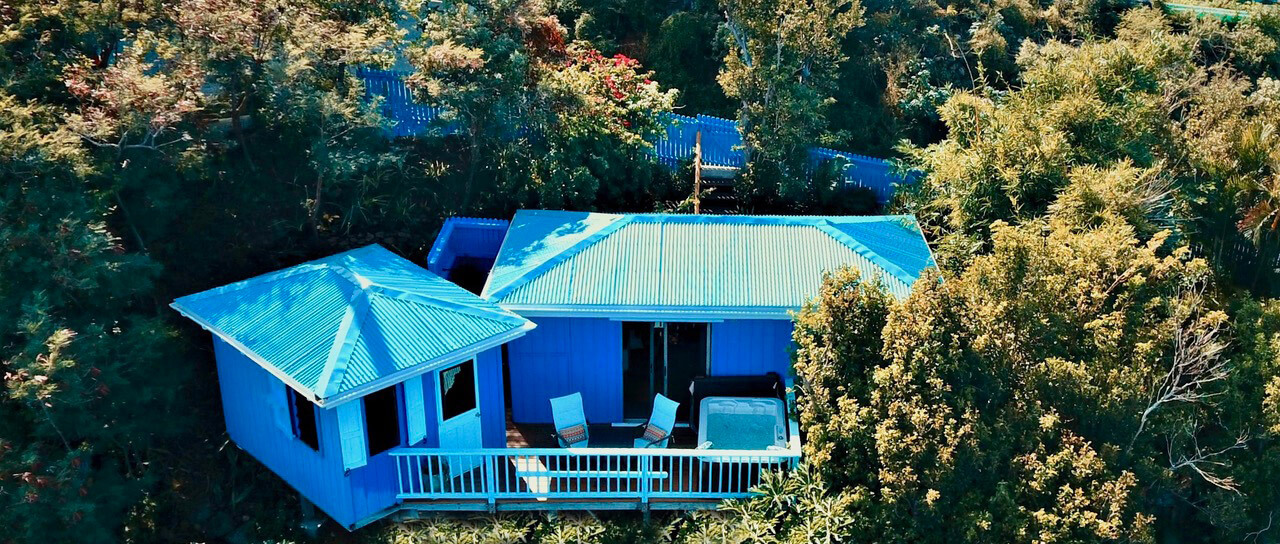 Birds eye view of the cottage which is not visible on land
The time we took to restore the cottage meant we had lot's of fun with it. It's a small cottage so everything needed to be exactly the right size for the space. After an exhausting search for ready made furniture we chose to use a company we have worked with several times in Belize to hand craft many of the furnishings to our specifications. Thanks to Etsy we were able to get the balance of the furnishings from American craftspeople. I then had a great time indulging my eclectic taste by adding handmade items from Haiti, Puerto Rico, Mexico, Israel, Germany, Russia, Poland, Morocco, Thailand and even Tunisia for the decor.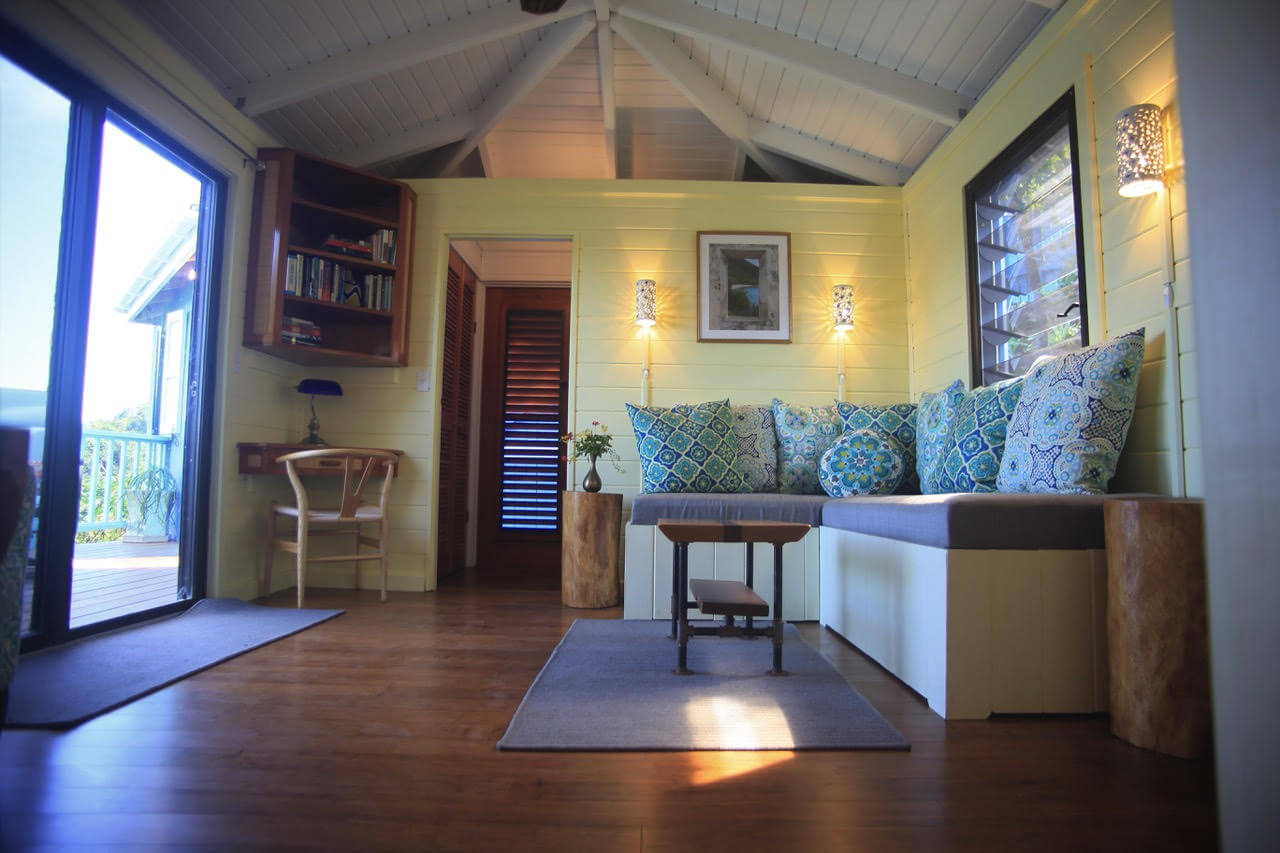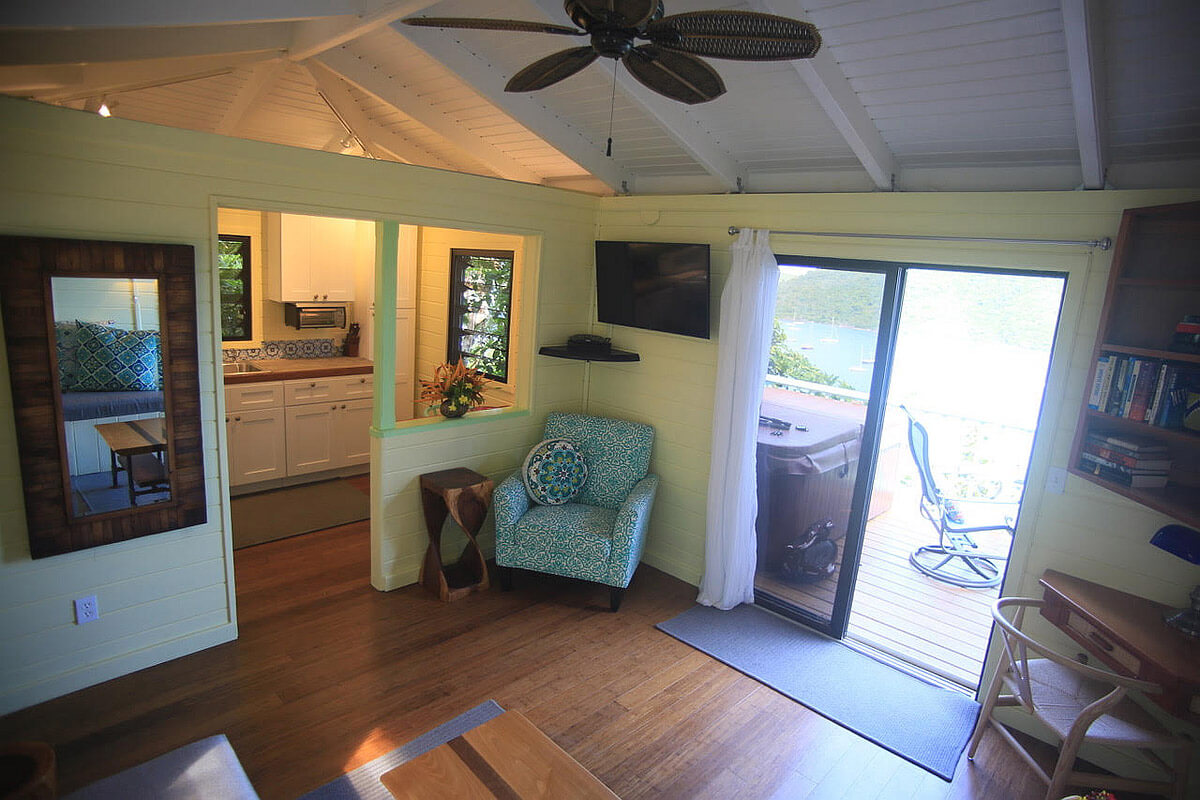 We redesigned the "cozy" kitchen with custom made wood cabinets to make maximum use of the space. Although there are several restaurants within a mile of Lily Cottage you may find the view nicest on the cottage porch. The cupboards are very well stocked with pots, pans, utensils and dish ware. We have all standard amenities such as a 4 burner stove with oven, coffeemaker, toaster oven, coffee grinder and microwave. We do not have a dishwasher.
Please feel fee to ask us about any kitchen items that are on your "must have" list and we will do our best to take sure it is available for you. I do love to cook and I have outfitted the kitchen with any supplies I would like to have on hand.
We provide a fresh sponge and paper towels but not food items.
We meet new guests in Coral Bay.  You can stop at a grocery store on the way to give you a chance to stock up for the week but you will also find a grocery a half mile away.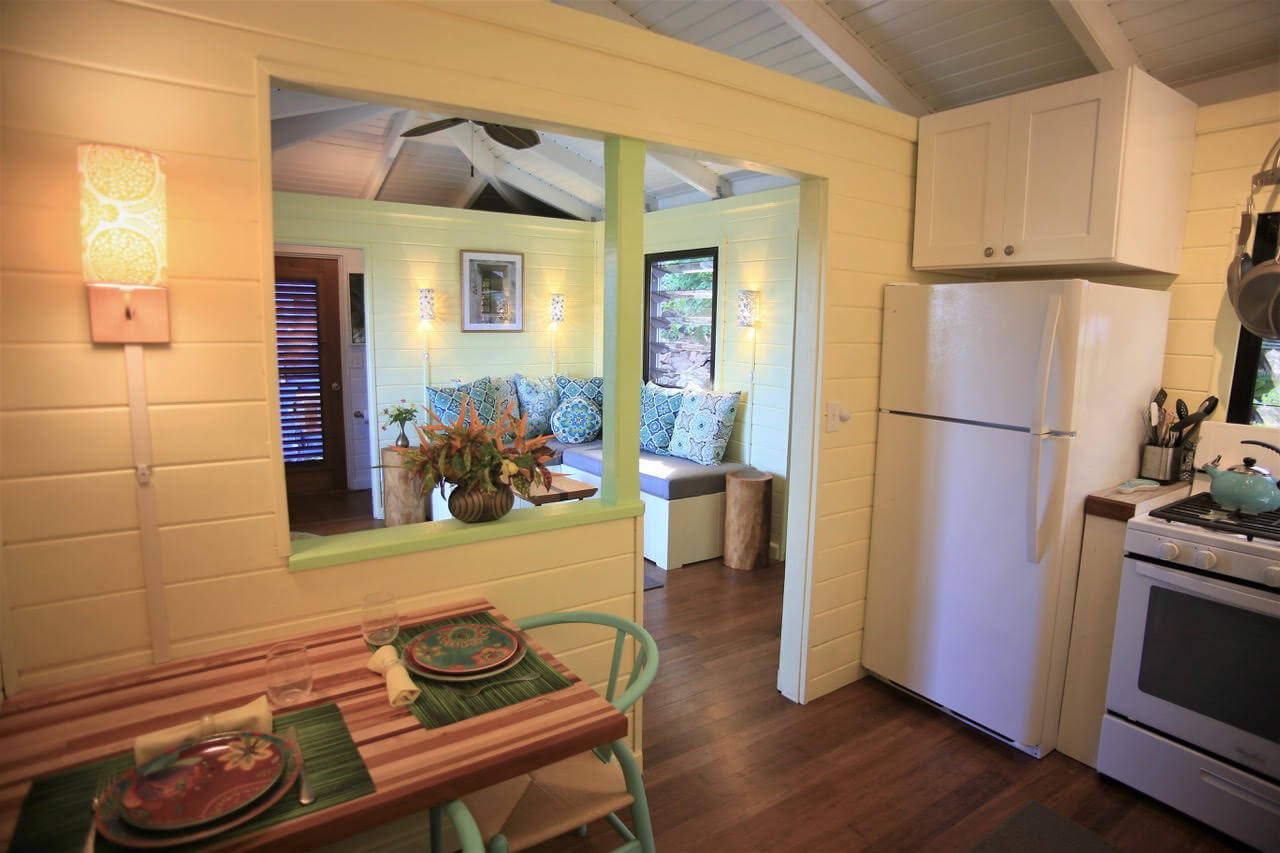 Amenities
Hot Tub
Snorkel Gear
Beach Chairs
Cooler
Beach Umbrella
BBQ
CD & DVD Player
Phone
Fresh Flowers
Robes, All Linens & Towels
Safe for Valuables
Wi-Fi Internet
Activities
We are happy to make suggestions for activities that suit your interests.  When you arrive at your cottage we will go over a map of the island and point out the best beaches, hiking trails, snorkel spots, etc.  Most activities can be arranged once you are on island but if you are planning a day on the water you may want to arrange that in advance.
Arrival
Lily Cottage is managed by on island owners. We will meet you on arrival, arrange for discounted car rentals and provide the personal attention you need to make your stay with us as pleasant and relaxing as possible. We can also arrange for a driver to meet your flight for the 50 minute ride to the Red Hook ferry dock.
Availability Calendar for Lily Cottage
Guest Reviews for Lily Cottage
Lily Cottage is such a treasure! We celebrated our 5 year wedding anniversary in the beautiful St. John and enjoyed every second of the trip! A big part of that was the comfortable accommodations at Lily Cottage. From start to finish, Susan and her team took great care of us and paid attention to every detail (including shipping back an entire drawer of clothes that I left behind).
The house is so quaint, well-equipped, and comfortable. Our recommendation is to go check out the house and see what is there before heading to the grocery store. We bought things like coffee filters and salt and pepper and the house was already stocked with that when we arrived.
Book this romantic little cottage. You will be dreaming of the stargazing from the hot tub for years upon your return!
We just had the most beautiful time in St. John and Lily Cottage was absolutely perfect! One of the most well maintained rentals I have stayed in and so many special touches. Can't wait to be back for sunrises and stargazing from the hot tub. Thank you, Susan!
Leave a Review for Lily Cottage