1 Bedroom, 2 Bath, Hot Tub
Sleeps 2
(Guest cottage available as additional bedroom)
$2065 Low Season (Apr 16-Dec 14)
$2835 High Season (Dec 15-Apr 15)
Please note: We never advertise on Craigslist. We will never request guests to wire money directly to our bank accounts.
If you should encounter either of these please contact us directly to avoid fraud.
Welcome to Windwardside, an elegant retreat with lovely furnishings, a beautiful view and lush tropical gardens. It is the most intimate and traditional of all of our homes In Coral Bay. The design is reminiscent of a bygone era in the caribbean but the amenities are modern and designed for comfort. My husband (a retired builder on the island) and I designed this home. We have years of experience of offering visitors to the island an unusual experience that brings them outside of their day to day life but is a comfortable and welcoming home away from home. Recent renovations to the house have added much to its beauty and charm.
This traditional West Indian style home consists of multiple buildings with a large central courtyard. The mainhouse consists of two buildings: the first is a detached bedroom / bathroom with a veranda that looks over the courtyard, gardens and sea; the second is the "great house". The great house is entered though a roomy screened-in porch which holds a beautifully furnished dining room and a cushioned window seating area. There is a full kitchen and living room, an adjoining bath, plus an inviting covered porch overlooking the sea. Larger groups can rent Windwardside guest cottage as an additional bedroom. You will find a floor plan further below for reference.
Our guests love the separation of the bedroom from the living area. It is a uniquely caribbean experience that allows you to end your day by admiring the night sky. Our skies are devoid of light pollution so we have a brilliant display of stars during the dark of the moon. During the days when the moon is full view from the hot tub is unbelievably romantic.
Our kitchen is small but extremely well appointed. Windwardside (in conjunction with the neighboring Guest Cottage) has always been my choice when we have had family visiting so it is well set up for any meals you wish to enjoy in the comfort of the villa. You will find all the equipment you need to prepare your meals at home including a high quality gas grill. For those who prefer to take a break from cooking on their vacations there are numerous restaurant within a few miles from the villa. Our staff will be happy to tell you about the offerings both in Coral Bay and Cruz Bay.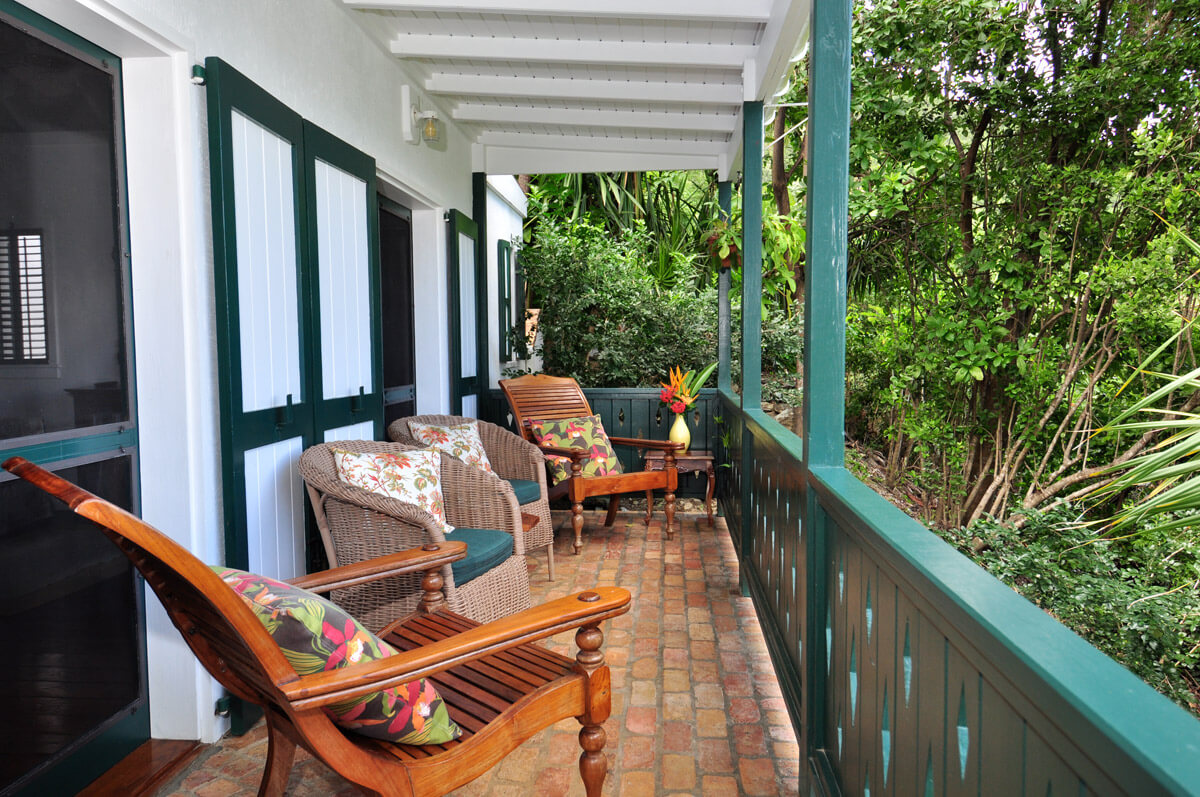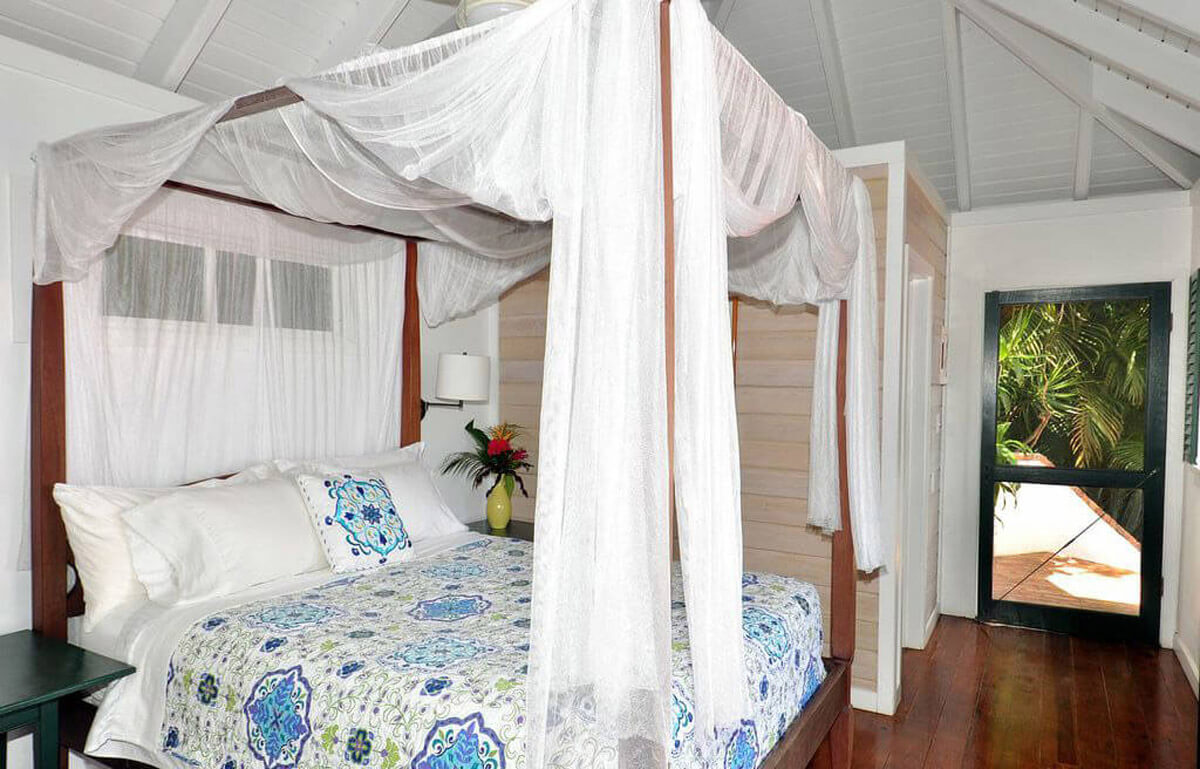 The charming detached bedroom has a four poster bed and opens onto a relaxing verandah. Fill the coffee pot the night before and surprise your partner with coffee on the verandah as a romantic way to start the day. The master bedroom has a full bath with a shower located in an enclosed shower garden that is open to the sky but totally private. If the weather doesn't allow for that (a rarity on St. John) there is also an indoor shower and full bath located off the living room.
Windwardside shares the property with the neighboring Guest Cottage. They share no amenities except the parking area and are visually obscured from one another by thick tropical foliage. Please be sure to read our reviews from former guests who can assure you that your vacation will be a private one.
Read Reviews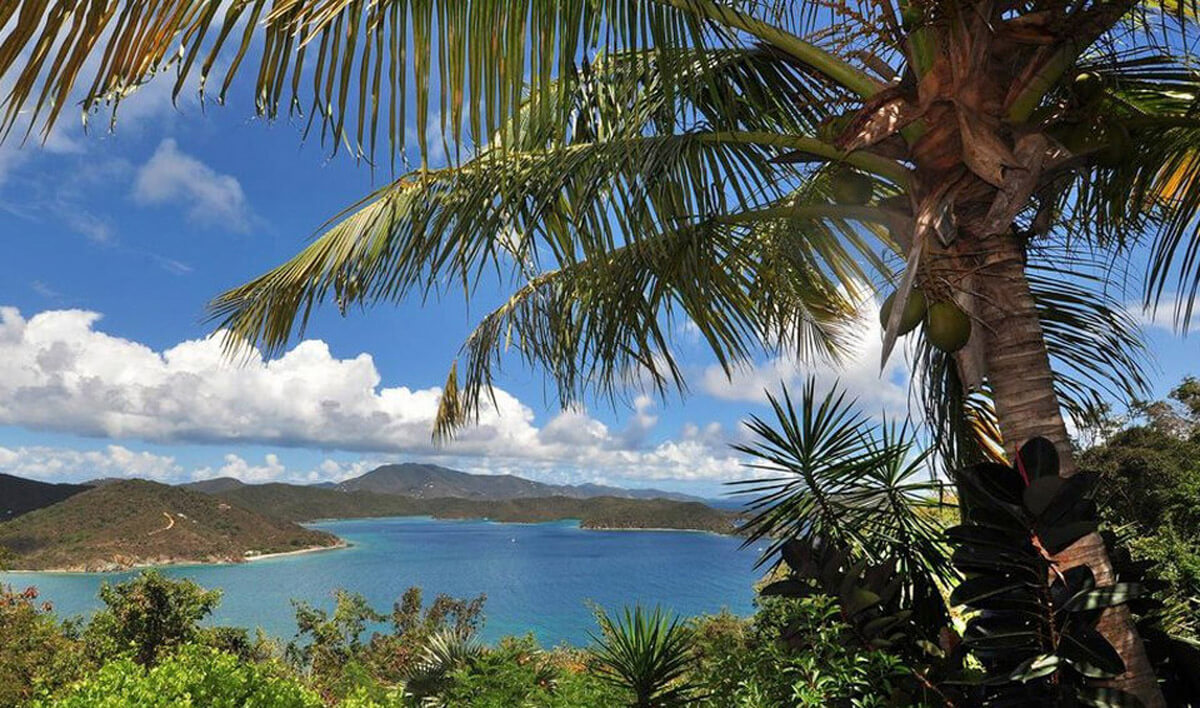 Windwardside makes every attempt to protect the beautiful environment that makes it such a special place. The majority of our power is from discretely placed solar panels. Gray water from our showers is recycled to water our beautiful tropical gardens. Whenever possible we use natural cleaning products including laundry soap. As more options open we will continue to add to our green environment efforts.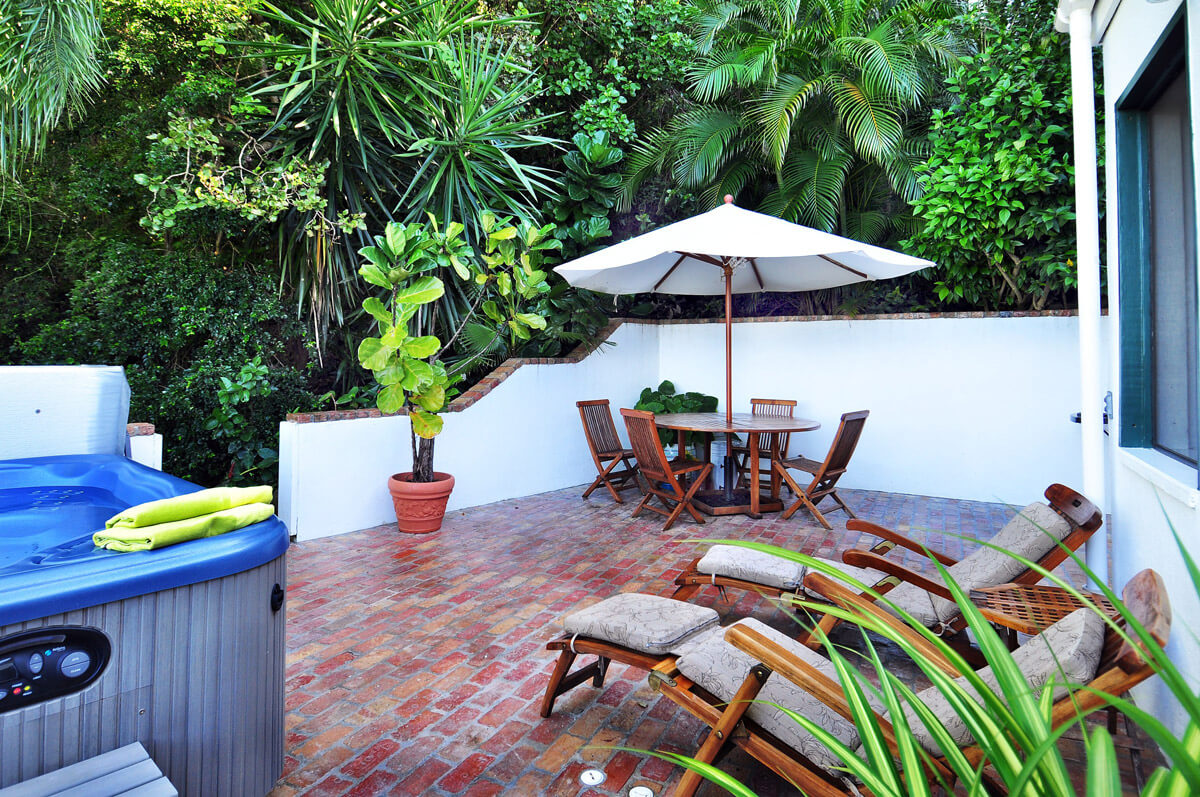 Our staff are long time members of the Calabash Cottages team and will do their best to help you plan your perfect vacation from start to finish. We hope to see you soon!
Location: Coral Bay, St. John, U.S. Virgin Islands. Windwardside is located in quiet seclusion with mesmerizing views of Coral Bay, nearby islands and the Caribbean Sea. The house is situated two thirds of a mile up a little used road in Coral Bay. Surrounded by tropical plantings and marvelous vistas, you are still just a short drive to a cool splash in Salt Pond Bay or other equally inviting white sand beaches. Restaurants, shops and watersports are all available within two miles in Coral Bay. The main town on the island, Cruz Bay, is located 8 miles away. The airport is in St. Thomas which is reached via a twenty minute ferry ride. (Ferries leave every hour on the hour and cost $7 each way).
Windwardside was created to meet the desire to travel in groups with friends and loved ones yet still maintain a sense of privacy while doing so. This focus on privacy also makes it a wonderful retreat for couples. The whole complex – the Great House (master bedroom, two baths) and the guesthouse (one bedroom, one bath) can be rented as one by larger groups. Smaller groups or couples can choose from either the main house or the guest house. When rented individually privacy is assured by the orientation of the buildings and the heavy plantings screening them from one another.
Amenities
Hot Tub
Snorkel Gear
Beach Chairs
Cooler
Beach Umbrella
BBQ
CD & VCR Player
Phone
Fresh Flowers
Robes, All Linens & Towels
Safe for Valuables
Wi-Fi Internet
Activities
We are happy to make suggestions for activities that suit your interests.  When you arrive at your cottage we will go over a map of the island and point out the best beaches, hiking trails, snorkel spots, etc.  Most activities can be arranged once you are on island but if you are planning a day on the water you may want to arrange that in advance.
Arrival
Windwardside is managed by on island owners. We will meet you in Coral Bay on arrival, arrange for discounted car rentals and provide the personal attention you need to make your stay with us as pleasant and relaxing as possible. We can also arrange for a driver to meet your flight for the 50 minute ride to the Red Hook ferry dock.
Availability Calendar for Windwardside Main House
Guest Reviews for Windwardside Main House
Loved Windwarside Cottage
Allen K.
02-03-2012
My wife and I stayed at the Windwardside Cottage for two weeks. We had a fabulous time. The cottage was almost exactly as depicted in the pictures. Everything was spotless and freshly made up for us. The cottage was very spacious which we greatly appreciated. The separate bedroom/bathroom was a bit odd at first, but we easily got used to it and actually liked it. The main house has everything you could possibly want and was so relaxing. We enjoyed the hot tub on a daily basis just after we came back from the beach for the day. Having not one but two outdoor showers available was luxurious. We made our breakfast each morning and ate it in the roomy and airy dining room and sat on the outside patio each night talking and star gazing. The views from almost anywhere on the property were gorgeous. Susan and Diane were wonderful to deal with before we arrived and were in contact with us during our stay to see if we needed anything. They had someone waiting for us when we got off the ferry in Cruz Bay who escorted us to pick up our rental car, go to the supermarket for a quick shopping, and then take us to the cottage. Simply great service. BTW, the folks at Courtesy Car Rental are wonderful to deal with and the discount that Susan arranges with them is not trivial. The road up to the cottage was a bit challenging at first - perhaps because we arrived at night. But by the light of day it became just part of the fun of staying at the cottage. Staying in Coral Bay was divine. There are more than enough very good restaurants to keep you happy for several days. The cottage is just a short drive to all of them, as well as to Salt Pond Bay which is a wonderful beach to visit and has some good snorkeling. The cottage is also a 10-15 minute drive to several other East End beaches, Hanover, Haulover, Vies that are wonderful, not crowded and also have good snorkeling. Staying close to Coral Bay is absolutely the best decision we made. Driving to the famous North Shore beaches, such as Maho and Trunk was easy and not too far away. Susan also helped arrange our pick-up at and return to the St. Thomas airport by Dynamic Tours. It went very smoothly. All in all I cannot recommend the Windwardside Cottage highly enough. We have a place to return to on St. John.
Our Response
Dear Allen and Helen, I am so glad that you enjoyed your stay at Windwardside Main House. We appreciate the detail in the review. It means a lot for guests to hear about the experiences of past visitors. Enjoy your safai next year and we know we will see you in the future. Warm regards, Susan PS: For those reading this review the guests refer to Windwardside Cottage. The actually stayed at Windwardside Main House which is the neighboring home to Windwardside guest Cottage.
Wonderful last-minute getaway
Heather Y.
02-13-2011
We rented Windwardside cottage with five days notice after finding their discounted rate on Home Away. Diane did everything possible to help us get to the house. We were met by Bruce who gave us a thorough introduction to the island and escorted us to this great house atop a rough but fun dirt road.
If you're confused about the "two house" thing, don't be. This is just like renting a two-story house -- with bedroom/bath upstairs and livingroom/bath/kitchen/dining room downstairs. It's just that the stairs are open and the floors aren't directly on top of each other.
The house has everything one could think of - we cooked in breakfast and dinner and packed lunch to take as we explored the island in our 4x4. The kitchen lacked for nothing and the dining room was stacked with a great library of books and DVDs. Reading years of guest comments and perusing the St. John books helped us decide what to do each day.
The views from the porch and hot-tub are as described. The place is extremely private - we could occasionally hear but not see the couple staying at the guest house next door.
I would recommend following the owner's recommendations regarding transportation to the island and auto-rental on-island. We were picked up by a Warren of the transport company (holding our name when we got off the plane) and within 45 minutes of landing we were on the Red Hook Ferry. 20 minutes later, we were met in St. John by Bruce, who took us the car rental place, explained the three-road town, took us to the grocery store, and led us across island to the house. He gave detailed 4x4 instructions and made sure we knew the "must see" places on the island map. Really amazing service! The couple staying that the guest cottage next door went their own way, using taxis, renting on St. Thomas and taking the car ferry -- all were mistakes and, though they landed on St. Thomas at the same time as us, they arrived at the house seven hours later.
We didn't eat much food on the restaurant, but do recommend Coral Bay standby's The Tourist Trap (lobster rolls) and Vie's (conch fritters).
For beaches, we recommend Little Lameshur (gorgeous and private), Salt Pond (hike the Ram's Head trail and snorkel) and Maho - shallow, and easy for learning to snorkel. We swam with sea turtles there.
We had a wonderful Honeymoon!
Steve
01-11-2011
We LOVED our stay at the Windwardside main house. The pictures are very accurate and it is a wonderful place to get away from it all. The location on the east side of the island by Coral Bay is great for those who want to get away from the more "tourist" focused scene in Cruz Bay. We found the people in Coral Bay to be extremely friendly and the restaurants were the best on the island. Plus, the proximity to Salt Pond and Little Lameshur beaches was great since we like less of a crowd. I highly recommend this villa and hope to stay there again in the future. We're hoping to rent both the main house and guest cottage sometime in the future with friends. It's a perfect set up for two couples to share.
Great House!
Amy W.
10-13-2010
We have rented this house in St John 3 times and have had a great
time every single time. The house is well appointed with everything one would need and more! The birds are amazing and so are the plants.
Nice and private but close to beaches and restaurants.
The owners are nice, have good info. and will help you make reservations for your rent-a-car.
PARADISE!!!
Sarah
08-11-2010
Windwardside was BEYOND amazing!! My husband and I couldn't have enjoyed out stay any more than we did. The staff was more than accommodating and quick to answer any questions we had, and even brought some groceries for us so we would have something to eat after a long day of traveling. The pictures are very accurate, and the house and view of coral bay are absolutely beautiful!!! We could not have asked for a better place to spend our honeymoon and hope to return someday soon!