Windwardside Guest Cottage
1 Bedroom, 1 Bath, Hot Tub
Sleeps 2
$1470 Low Season (Apr 16-Dec 14)
$1890 High Season (Dec 15-Apr 15)
Please note: We never advertise on Craigslist. We will never request guests to wire money directly to our bank accounts.
If you should encounter either of these please contact us directly to avoid fraud.
Welcome to the Windwardside Guest Cottage, a charming little cottage that enjoys gorgeous views of the east end of St. John, the neighboring British Virgin Islands and Coral Bay. This home can be rented in conjunction with the main house at Windwardside or alone as your own little piece of paradise. The lush tropical plantings, built in privacy screening and the orientation of the buildings seclude them from one another. The guest cottage is very appealingly furnished, has a private hot tub, an airy enclosed shower garden and a comfortable front porch overlooking the sea.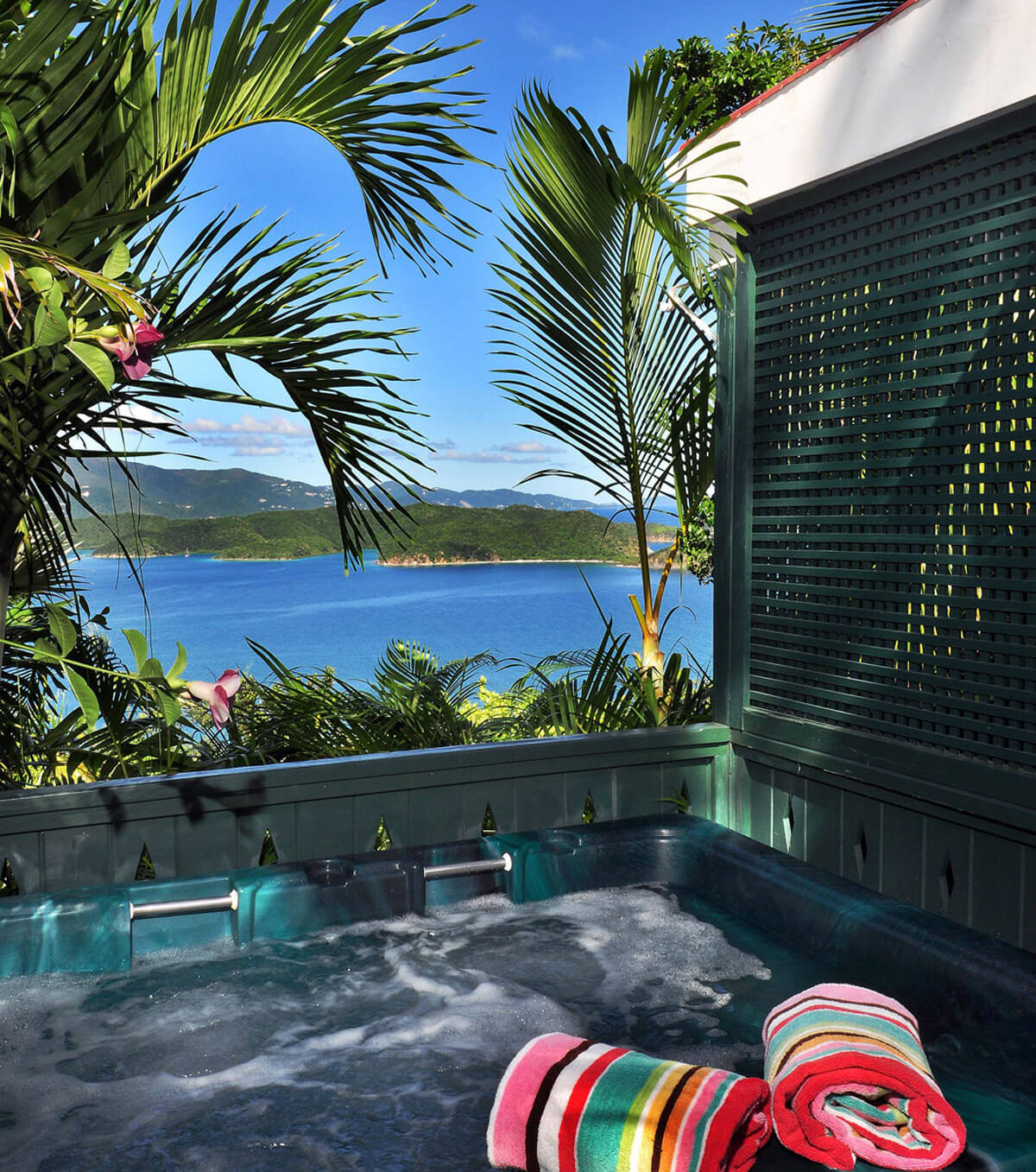 Our goal in constructing Windwardside Guest Cottage was to provide a romantic haven packed with amenities but at a reasonable price. We have many honeymoon guests that choose Windwardside Guest Cottage for precisely this reason. It is a budget home that won't make you feel like you have made any compromises. But the cottage is not only for honeymoon couples – it is a quaint and lovely cottage for any visitors to the island that want an intimate experience of our beautiful island with a gorgeous view.
We have numerous storage areas in a compact home with a a view that rivals any on the island. At Windwardside Guest Cottage you will wake up in a four poster bed to a gorgeous view of the Caribbean sea framed by palm trees. You could easily create a post card from the view of this adorable cottage.
The interior has a queen-size, four-poster bed, a small seating area, a kitchenette and a breakfast bar. The furnishings are both tasteful and cheerful. The covered porch has a dining area and two lounging chairs where you can enjoy the trade winds or a good book while watching the sailboats pass by. A small gas grill is also available if you prefer to prepare your meals overlooking the sea. A shower garden opens onto an uncovered deck. There you can have a relaxing evening soak in the hot tub under a starry Caribbean sky. The hot tub also has a wide view of the sea and total privacy.
In short Windwardside Guest Cottage offers a serene location, fabulous view, charming furnishings, a private hot tub, kitchenette and bbq, plus dedicated staff that will organize your vacation from start to finish all for the price of a hotel room. We provide snorkel gear, beach chairs and a cooler and a beach umbrella.
We also include amenities that you may never need on our casual island (including an iron and a blow dryer) because we want you to be able to travel as light and carefree as possible. Please read reviews from our former guests. We hope to host you on our next visit to St. John.
Read Reviews
Location: Coral Bay, St. John, U.S. Virgin Islands. Windwardside Guest Cottage is located in quiet seclusion with mesmerizing views of Coral Bay, nearby islands and the Caribbean Sea. The house is situated two thirds of a mile up a little used road in Coral Bay. Surrounded by tropical plantings and marvelous vistas, you are still just a short drive to a cool splash in Salt Pond Bay or other equally inviting white sand beaches. Restaurants, shops and watersports are all available within two miles in Coral Bay. The main town on the island, Cruz Bay, is located 8 miles away. The airport is in St. Thomas which is reached via a twenty minute ferry ride (Ferries leave every hour on the hour and cost $7 each way).
Amenities
Hot Tub
Snorkel Gear
Beach Chairs
Cooler
Beach Umbrella
BBQ
CD & VCR Player
Phone
Fresh Flowers
Robes, All Linens & Towels
Safe for Valuables
Wi-Fi Internet
Activities
We are happy to make suggestions for activities that suit your interests.  When you arrive at your cottage we will go over a map of the island and point out the best beaches, hiking trails, snorkel spots, etc.  Most activities can be arranged once you are on island but if you are planning a day on the water you may want to arrange that in advance.
Arrival
Windwardside is managed by on island owners. We will meet you  on arrival, arrange for discounted car rentals and provide the personal attention you need to make your stay with us as pleasant and relaxing as possible. We can also arrange for a driver to meet your flight for the 50 minute ride to the Red Hook ferry dock.
Availability Calendar for Windwardside Guest Cottage
Guest Reviews for Windwardside Guest Cottage
Perfect trip!
Amy
04-27-2011
We loved the cottage! It is clean and perfectly located close to Coral Bay but still feels secluded. The view was stunning. We loved the outdoor shower and hot tub. The owners were so helpful and easy to work with. We would definately stay here again!
A Little Piece of Heaven
Rob & Claudia
04-11-2011
Windwardside Guest Cottage is the perfect getaway for two people. The accomodations are well maintained, clean and comfortable. The view and location are fantastic. Bring groceries and your favorite adult beverages and enjoy wonderful meals on the porch. Great way to shed the stresses and strains of modern life.
Had a great time at Windwardside Guest Cottage!
Suzanne
02-22-2011
This was truly the prefect vacation rental for our much needed tropical escape! We wanted a true "get-away" and to avoid the typical resort-style vacation. This was the ideal spot for a quiet week on a beautiful sunny island with amazing beaches. The cottage was cozy, and had everything we needed. It was tastefully decorated and very clean and well-kept. I miss the garden shower and the stunning views of coral bay. The porch was our favorite spot to relax, grill and sip coffee at sunrise. The snorkel gear, coolers and beach chairs gave us everything we needed for fun beach days.
First night home was hard to fall asleep without the lull of the water and rustling palms. Can't wait to come back!
Excellent Stay at Windwardside
Anonymous
02-17-2011
My wife and I stayed at the Windwardside Guest Cottage and can't wait to return. It was cozy, intimate and the view from the deck caused us to spend quite some time doing nothing but sitting there and sighing in delight. Susan and Diane were very gracious and helpful. Overall, we consider being there one of our better experiences over our ten years of vacationing at St. John.
Amazing!
Matt & Katie
11-16-2010
The Windwardside Guest Cottage exceeded our expectations on every level. It had absolutely everything we needed and nothing we didn't (the latter is especially important on a vacation when you're trying to get away from it all). Susan and her team were very helpful, and made the planning incredibly easy and enjoyable. The location was perfect nestled up on the hillside offering beautiful views, privacy, and peace & quiet. You will fall asleep after exhausting beach days to the sound of the wind blowing through palms and the singing island wildlife. I am a veteran outdoor shower enthusiast, and the 'shower garden' under the stars was a blissful experience in itself. Staying here was a wonderful blend of comfort and adventure, and truly was unlike anything we have experienced before. If you're on the fence, get off it and stay here!
Our Response
Hi Matt and Katie, Thanks for staying at Windwardside Guest Cottage. I appreciate your taking the time to let us know that you enjoyed your visit. Hope to see you again! Susan
Leave a Review for Windwardside Guest Cottage