Windwardside Guest Cottage
1 Bedroom, 1 Bath, Hot Tub
Sleeps 2
$1470 Low Season (Apr 16-Dec 14)
$1890 High Season (Dec 15-Apr 15)
Please note: We never advertise on Craigslist. We will never request guests to wire money directly to our bank accounts.
If you should encounter either of these please contact us directly to avoid fraud.
Welcome to the Windwardside Guest Cottage, a charming little cottage that enjoys gorgeous views of the east end of St. John, the neighboring British Virgin Islands and Coral Bay. This home can be rented in conjunction with the main house at Windwardside or alone as your own little piece of paradise. The lush tropical plantings, built in privacy screening and the orientation of the buildings seclude them from one another. The guest cottage is very appealingly furnished, has a private hot tub, an airy enclosed shower garden and a comfortable front porch overlooking the sea.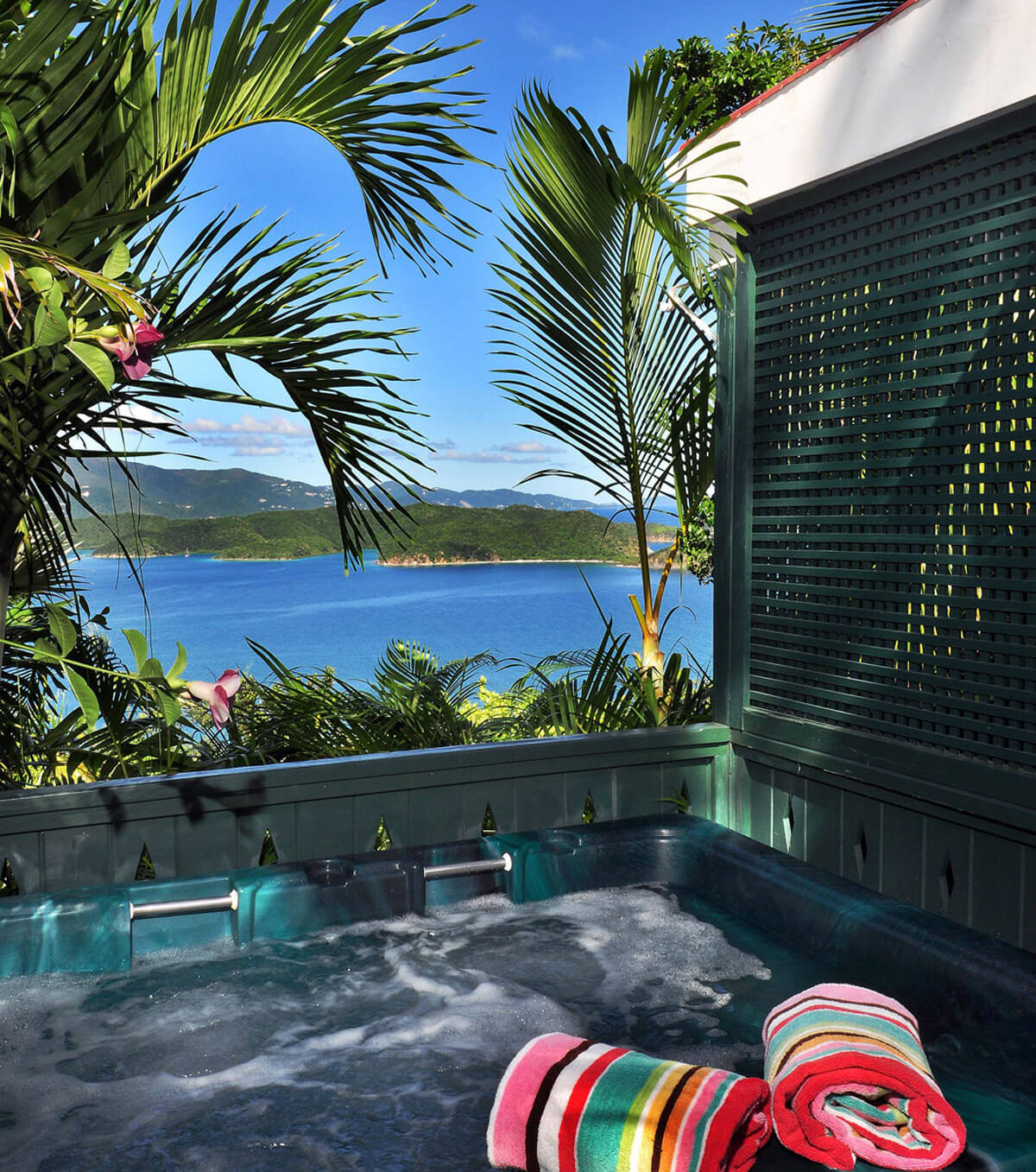 Our goal in constructing Windwardside Guest Cottage was to provide a romantic haven packed with amenities but at a reasonable price. We have many honeymoon guests that choose Windwardside Guest Cottage for precisely this reason. It is a budget home that won't make you feel like you have made any compromises. But the cottage is not only for honeymoon couples – it is a quaint and lovely cottage for any visitors to the island that want an intimate experience of our beautiful island with a gorgeous view.
We have numerous storage areas in a compact home with a a view that rivals any on the island. At Windwardside Guest Cottage you will wake up in a four poster bed to a gorgeous view of the Caribbean sea framed by palm trees. You could easily create a post card from the view of this adorable cottage.
The interior has a queen-size, four-poster bed, a small seating area, a kitchenette and a breakfast bar. The furnishings are both tasteful and cheerful. The covered porch has a dining area and two lounging chairs where you can enjoy the trade winds or a good book while watching the sailboats pass by. A small gas grill is also available if you prefer to prepare your meals overlooking the sea. A shower garden opens onto an uncovered deck. There you can have a relaxing evening soak in the hot tub under a starry Caribbean sky. The hot tub also has a wide view of the sea and total privacy.
In short Windwardside Guest Cottage offers a serene location, fabulous view, charming furnishings, a private hot tub, kitchenette and bbq, plus dedicated staff that will organize your vacation from start to finish all for the price of a hotel room. We provide snorkel gear, beach chairs and a cooler and a beach umbrella.
We also include amenities that you may never need on our casual island (including an iron and a blow dryer) because we want you to be able to travel as light and carefree as possible. Please read reviews from our former guests. We hope to host you on our next visit to St. John.
Read Reviews
Location: Coral Bay, St. John, U.S. Virgin Islands. Windwardside Guest Cottage is located in quiet seclusion with mesmerizing views of Coral Bay, nearby islands and the Caribbean Sea. The house is situated two thirds of a mile up a little used road in Coral Bay. Surrounded by tropical plantings and marvelous vistas, you are still just a short drive to a cool splash in Salt Pond Bay or other equally inviting white sand beaches. Restaurants, shops and watersports are all available within two miles in Coral Bay. The main town on the island, Cruz Bay, is located 8 miles away. The airport is in St. Thomas which is reached via a twenty minute ferry ride (Ferries leave every hour on the hour and cost $7 each way).
Amenities
Hot Tub
Snorkel Gear
Beach Chairs
Cooler
Beach Umbrella
BBQ
CD & VCR Player
Phone
Fresh Flowers
Robes, All Linens & Towels
Safe for Valuables
Wi-Fi Internet
Activities
We are happy to make suggestions for activities that suit your interests.  When you arrive at your cottage we will go over a map of the island and point out the best beaches, hiking trails, snorkel spots, etc.  Most activities can be arranged once you are on island but if you are planning a day on the water you may want to arrange that in advance.
Arrival
Windwardside is managed by on island owners. We will meet you  on arrival, arrange for discounted car rentals and provide the personal attention you need to make your stay with us as pleasant and relaxing as possible. We can also arrange for a driver to meet your flight for the 50 minute ride to the Red Hook ferry dock.
Availability Calendar for Windwardside Guest Cottage
Guest Reviews for Windwardside Guest Cottage
Great Headquarters for Snorkeling and Relaxing
Ron H.
08-07-2012
I was traveling by myself on this trip and this little cottage was perfect. Very private with a fantastic view. I loved the outdoor shower with large plants. I used the hot tub at least once a day and found it to be very relaxing. It was a 2 mile drive to Saltpond Bay which is known to have some of the best snorkeling on St. John. I took underwater pictures of two turtles there and a spotted eagle ray. The one turtle was over 3 feet long. I plan to come back to this location every year!
Had a great trip!
Brian
11-24-2011
We had a great vacation on St. John and the Windwardside Guest Cottage was a big part of it. The cottage was exactly as described. The view of Coral Bay was wonderful. We loved the hot tub under the stars. We enjoyed the outdoor shower under the watchful eye of the lizards and geckos. We grilled on the BBQ and ate outside on the porch. We made good use of the snorkling equipment, beach chairs and beach towels that were provided. My wife really enjoyed our breakfast visitors, the bananaquits; they really love that sugar. One bird also had a fondness for OJ with a touch of Cruzan Pineapple Rum in it! The road up to the cottage is memorable but we had no problems with it, very bumpy though! Susan and her staff (Diane and Adam) were absolulely amazing. They helped arrange our transportation from the airport to the ferry as well as our Jeep rental. They were helpful when we had any questions about the island and were very responsive when the heater on the hot tub stopped working.
Island recommendations:
Solomon Bay Beach - worth the hike on the Lind Point Trail; gorgeous beach; there were never more than 14 other people with us while we were there
Jumbie Bay Beach - if arrive late afternoon maybe you will have the entire beach to yourselves (like we did) - AWESOME!
Hike to Rams Head. What a view!
The Ranger led Reef Bay Trail Hike was fun and informative.
Had dinner at Skinny Legs and Shipwreck Landing and breakfast at Donkey Diner. All were good.
Wonderful- Simply Wonderful!
Toni and Cindy
05-07-2011
All your worries melt away walking in the door. A beautifully maintained villa, all the comforts of home- with a view that's purely AMAZING.
A romantic retreat from the stressors of everyday life. Clean as a whistle.
Don't forget to read the journal books on the shelf as they contain years of similar testimony. Dont hesitate on this decision book it!! Money well spent! Best vacation weve ever had.
Great week at Windwardside Guest Cottage
Lydia P.
05-07-2011
My husband and I had stayed in Coral Bay St John three years ago with a big family trip and decided that we wanted to return but to a smaller villa just the two of us. We were so excited to find Windwardside Guest cottage and the minute we contacted Susan at Calabash Cottages we knew we had made the right decision. Susan made our transportation and Jeep reservations which made for a much easier arrival than our previous trip. The staff member met us at the ferry and helped us pick up our jeep,brought us to the grocery store, and led us out to the gorgeous villa.
The one drawback to the villa is that it is located up a very steep hill on a dirt road and the driving can be a little stressfull the first few trips. If you've never been to St John be aware that the driving can be somewhat difficult as only some of the streets are paved and almost all are narrow and steep. After a day or two its easy to adjust and the beautiful views make it all worth while!
Before arriving we wondered what it would be like to stay at a guest cottage and whether it would offer enough privacy. Don't worry about this! The trees and foliage offer plenty of privacy and we never even caught a glimpse of the other cottage. By chance we saw the couple that stayed in the other cottage on our ferry ride at the end of the week and we all marveled at how we didnt see or hear eachother all week. Windwardside Guest Cottage definitly makes you feel like you are in your own private paradise.
The cottage is small but has a great open feel with tall ceilings and big airy doors that bring in calm breezes all night. The kitchen has a sink and small efficiency fridge (tiny freezer), and two burner stove. There is also a grill outside -off the porch. We ate a few meals at the house and found everything we needed to prepare simple food and cocktails. The cottage also provides plently of towels,robes, and a hairdryer. We were happy to find beach chairs, coolers in all sizes, and snorkel gear.The best thing about the cottage is the view. We can see the ocean while lying in bed. We woke up every morning excited to get outside and head for the beach. I couldnt stop taking pictures from the front steps of the villa!
Coral Bay offers everything you need for groceries,food, and cocktails, while still providing that "off the grid" feel.
For any couple looking for a great romantic getaway you cant go wrong with Windwardside Guest Cottage!
Our Response
Dear Lydia, Thanks for such a thoughtful and thorough review. Hearing from guests who have actually stayed with us is so much more helpful to potential guests than anything we can tell them. I'm happy that you chose to stay with us and even happier that you are glad you did. We hope to see you again! Susan
Windwardside cottage 2009 visit
Jcoorts
04-29-2011
went for an anniversary trip. Great service, incredible view from balcony. Fantastic trip and we'd go again to St. John. Cottage was good. Only disappointments were the hot tub was more like a 'barely warm' tub and the bed was just ok for comfortability. The trip was fantastic as a whole.
Our Response
Thanks for your review of Windwardside Guest Cottage. I was puzzled that you did not like the mattress but then I realized that you actually stayed with us over a year and a half ago. We have replaced the mattress in the interim. The one currently in the cottage is very comfortable. In fact, my husband and I as well as two staff members thought it was so comfortable that we ordered the same one for our homes. I'm disappointed that you had a problem with the hot tub. We encourage guests to call us with any maintenance issues and we do repair them as soon as possible. If we are made aware of any problems we do whatever we can to get them resolved and that usually means within an hour or two. We take our guests enjoyment of our amenities very seriously so I am sorry to learn that the hot tub did not work well for you during your visit. Susan
Leave a Review for Windwardside Guest Cottage