Windwardside Guest Cottage
1 Bedroom, 1 Bath, Hot Tub
Sleeps 2
$1470 Low Season (Apr 16-Dec 14)
$1890 High Season (Dec 15-Apr 15)
Please note: We never advertise on Craigslist. We will never request guests to wire money directly to our bank accounts.
If you should encounter either of these please contact us directly to avoid fraud.
Welcome to the Windwardside Guest Cottage, a charming little cottage that enjoys gorgeous views of the east end of St. John, the neighboring British Virgin Islands and Coral Bay. This home can be rented in conjunction with the main house at Windwardside or alone as your own little piece of paradise. The lush tropical plantings, built in privacy screening and the orientation of the buildings seclude them from one another. The guest cottage is very appealingly furnished, has a private hot tub, an airy enclosed shower garden and a comfortable front porch overlooking the sea.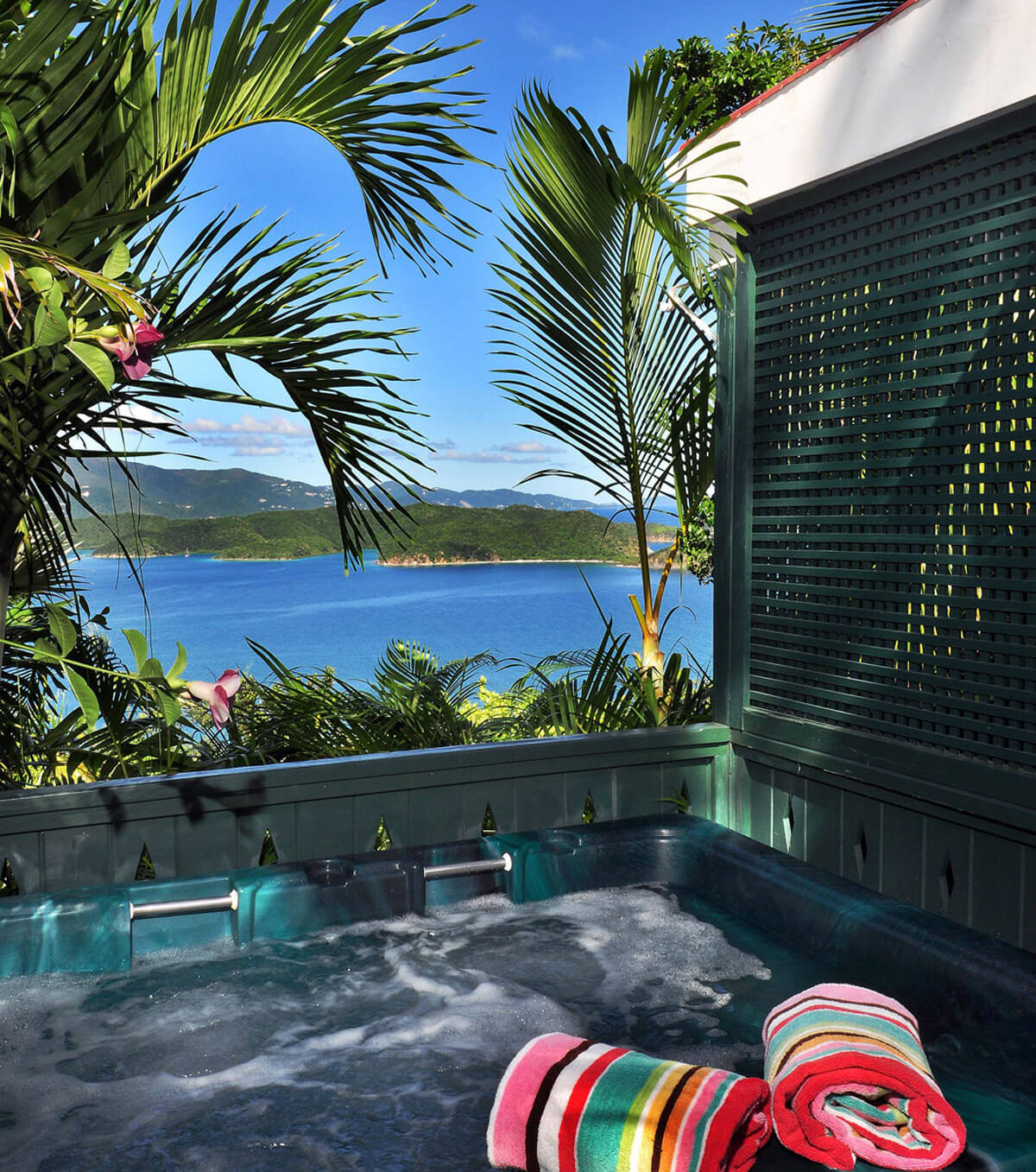 Our goal in constructing Windwardside Guest Cottage was to provide a romantic haven packed with amenities but at a reasonable price. We have many honeymoon guests that choose Windwardside Guest Cottage for precisely this reason. It is a budget home that won't make you feel like you have made any compromises. But the cottage is not only for honeymoon couples – it is a quaint and lovely cottage for any visitors to the island that want an intimate experience of our beautiful island with a gorgeous view.
We have numerous storage areas in a compact home with a a view that rivals any on the island. At Windwardside Guest Cottage you will wake up in a four poster bed to a gorgeous view of the Caribbean sea framed by palm trees. You could easily create a post card from the view of this adorable cottage.
The interior has a queen-size, four-poster bed, a small seating area, a kitchenette and a breakfast bar. The furnishings are both tasteful and cheerful. The covered porch has a dining area and two lounging chairs where you can enjoy the trade winds or a good book while watching the sailboats pass by. A small gas grill is also available if you prefer to prepare your meals overlooking the sea. A shower garden opens onto an uncovered deck. There you can have a relaxing evening soak in the hot tub under a starry Caribbean sky. The hot tub also has a wide view of the sea and total privacy.
In short Windwardside Guest Cottage offers a serene location, fabulous view, charming furnishings, a private hot tub, kitchenette and bbq, plus dedicated staff that will organize your vacation from start to finish all for the price of a hotel room. We provide snorkel gear, beach chairs and a cooler and a beach umbrella.
We also include amenities that you may never need on our casual island (including an iron and a blow dryer) because we want you to be able to travel as light and carefree as possible. Please read reviews from our former guests. We hope to host you on our next visit to St. John.
Read Reviews
Location: Coral Bay, St. John, U.S. Virgin Islands. Windwardside Guest Cottage is located in quiet seclusion with mesmerizing views of Coral Bay, nearby islands and the Caribbean Sea. The house is situated two thirds of a mile up a little used road in Coral Bay. Surrounded by tropical plantings and marvelous vistas, you are still just a short drive to a cool splash in Salt Pond Bay or other equally inviting white sand beaches. Restaurants, shops and watersports are all available within two miles in Coral Bay. The main town on the island, Cruz Bay, is located 8 miles away. The airport is in St. Thomas which is reached via a twenty minute ferry ride (Ferries leave every hour on the hour and cost $7 each way).
Amenities
Hot Tub
Snorkel Gear
Beach Chairs
Cooler
Beach Umbrella
BBQ
CD & VCR Player
Phone
Fresh Flowers
Robes, All Linens & Towels
Safe for Valuables
Wi-Fi Internet
Activities
We are happy to make suggestions for activities that suit your interests.  When you arrive at your cottage we will go over a map of the island and point out the best beaches, hiking trails, snorkel spots, etc.  Most activities can be arranged once you are on island but if you are planning a day on the water you may want to arrange that in advance.
Arrival
Windwardside is managed by on island owners. We will meet you  on arrival, arrange for discounted car rentals and provide the personal attention you need to make your stay with us as pleasant and relaxing as possible. We can also arrange for a driver to meet your flight for the 50 minute ride to the Red Hook ferry dock.
Availability Calendar for Windwardside Guest Cottage
Guest Reviews for Windwardside Guest Cottage
Great surprise birthday gift!
Dick
12-30-2014
This cottage was all we expected from the exciting pictures on the web. It did not disappoint. The view was even better than expected. Everything was clean and well organized, with many extras helpfully available. The location on the quiet side of the island a dream, with excellent restaurants nearby.
The transportation from the St. Thomas airport to the St. John ferry and back, the car rental, a leisurely stop at the one big supermarket, and the taking us to the cottage upon arrival were all arranged for us as promised. The greeter was terrific! She guided us through all this with patience and many suggestions and information that proved very helpful later.
The car rental agency that was arranged was also helpful, letting us park there when visiting Cruz Bay and even taking us back to the ferry at the end when he saw how much luggage we had.
Four wheel drive is necessary to get to the cottage (Mr. Toad's wild ride up the mountain on dirt roads), but the view and quiet are well worth it (just toads at night, roosters in the morning, and stars overhead.) And four wheel drive (the island is awash in Jeeps) is necessary to get to the great isolated beach at Little Lameshur Bay for swimming and snorkeling.
They promised a 5 star vacation, and it was! Thanks to all.
Our Response
Dear Richard, I am so glad that your birthday surprise for Steve's 60th was a hit. Also, I am happy that you got to explore "little" lameshur. It's one of my favorite snorkel spots that I always take my family to when they visit. Thank you for staying with us and taking the time to write a review. All the best- Susan
Take me back there, right now.
Sarah
12-14-2014
We had such a glorious time. The cottage is tiny but wonderful -- clean, airy, bright. There's no A/C because it's designed with windows on all sides and a ceiling fan to help the cross-breezes along. We were comfortable in mid-May. It felt like much more of a real island experience than staying in a resort.
I was nervous about privacy because this cottage is attached to a larger house. They told us the plantings would provide privacy, and they really, really do. The entire place is cloaked by beautiful tropical plantings, with the exception of the view straight out to the ocean. The only time you'd see other people is on the path to the shared parking lot, which crosses directly in front of the cottage by the double screen doors right in front of the bedroom. There are curtains you can pull in front of the doors, though.
The garden shower is very private. The wall around it is probably 7 feet tall, with vines and plants coming down the walls. It was awesome.
The views pictured on this website are not exaggerated, btw. I was pretty sure the photos were prettified in some way, but the view is exactly as pictured, and I have a bunch of photos on my camera to prove it. Basically, that's what you see when you're sitting up in bed.
They're not exaggerating about the road, either. The first time we drove up it, we were both white-knuckled. By the end of the week, we were rocking and rolling down that road like old pros. It was great. A little tutorial from the car-rental agency didn't hurt, either.
We used the grill, but we never got around to using the hot tub -- we'd rather have spent our time on the beach. The WiFi was not quite strong enough to stream Netflix, but there is a small TV with a DVD player, so I'd bring DVDs if you want to watch movies at night.
We liked Coral Bay way better than Cruz Bay, the more populous town on the other end of the island. There are far fewer people and more donkeys/chickens in the road, which was amusing, and just as many great beaches. We went over to the west end to visit, but we always ended up preferring Coral Bay.
Word of warning: If you're going to the islands in May or later, be sure to bring plenty of DEET, because the mosquitoes will be out in force, including in the garden shower. As one local told us, "Better spray than dengue."
Our Response
Thanks for posting about your stay at Windwardside Cottage, Sarah. I'm glad to hear that we lived up your expectations. I especially appreciate your addressing the issue of privacy from the main house. It means much more to potential visitors to hear this from a former guest than directly from us. Sorry- that your trip was during one of the "buggy". It isn't necessarily an issue related to the month of the year. When we get a big rain after a dry period mosquitoes tend to hatch out 5-7 days later. Fortunately, the "bloom" does not usually last very long. Thanks again for staying with us and we hope to see you again. Susan
I'm happy to report that your cottage has a magical quality. What an amazing, relaxing (albeit daily snorkeling, hikes and further adventures) lovely way to visit St. John. Windward Guest Cottage quickly became my new favorite place to stay! The pictures on the Homeaway website showed a tropical paradise but what we found here was so much more.
Thank you for the wonderful amenities. The house was well equipped for a comfortable stay. And anyone reading this has already been stunned by this view! No words...
We will definitely come back!
Our Response
It was a pleasure meeting you both. So glad that you enjoyed your week at the cottage. We hope you make it back for another stay. Thank you for spending your vacation with us and sharing your experience.
Amazing little villa on the hill
Emily M.
07-30-2014
This was our second time to windwardside Guest cottage and we had another amazing experience. The view, the hot tub, the island, everything was great. Susan, Diane, and Margaret were fabulous with everything. Hope to be back again soon!
Emily and Zack
Magnificent!
Jon & Lynne T.
04-13-2014
This was our first visit to St John and now that we're in love with the island we can't imagine staying anywhere other than the Windwardside Guest Cottage - except perhaps another Calabash Cottages property. We just can't gush enough about this sweet little bungalow. Its setting is spectacular; the view will knock your socks off! A teeny note of caution for those less adventurous, the last mile approaching the cottage is slightly intimidating (steep, quite a drop down [thus the fabulous view!] and mostly not paved/bumpy). However, don't let that sway you – you get used to it by your 2nd or 3rd try and it's worth it.
The cottage was perfectly appointed for two. Everything you'll need for your stay is there. The little galley kitchen will surprise you by how well equipped it is, between it and the grill we were very set to have most of our dinners in, and we're not talking PB&J here. The cottage was spotless and extremely well cared, particularly given how rough an island environment can be on metal, wood, etc. It appears as if it is tended to regularly.
The level of service from this team was top-notch. Margaret & Diane answered all of our pre-arrival questions & provided great tips for our stay. Beth (aka Yoga Beth) met us at the ferry dock & generously spent about 2 hrs with us. In addition to what was promised (ferry pick-up, rental car retrieval, grocery stop in the big city, follow-me to the cottage), Beth took us to the National Park Visitor Center so we could pick up our tickets for a hike the next morning. She also provided us some wonderful "local' tips on beaches for snorkeling and restaurants not to miss. Beth never once made us feel rushed; she really introduced us to the concept of island time. Oh almost forgot Warren from Dynamic tours, the car service from the airport to the ferry in St Thomas which was recommended & we highly suggest using it. It made our arrival & departure so smooth. Warren was warmly welcoming & completely reliable, there for us at the airport despite that our flight was over an hour late & then he called at the end of the week to find out which ferry we were taking from St John so that he'd be waiting our arrival. Lastly, Susan (the owner?) called us the last night to be sure our stay had gone well. Really, this is stellar service that is rare to find these days.
Thank you Calabash Cottage team. …..and for prospective future guests reading this: don't hesitate, this place is a gem!
Our Response
Thank you, Jon and Lynne, for your detailed review. I know how helpful it is to future guests to hear from people who have already stayed with us. I am so glad that that you enjoyed your week. I will pass on your appreciation to the rest of the team. We hope to see you on your next visit to St. John. Thanks again for staying with us. Susan
Leave a Review for Windwardside Guest Cottage