1 Bedroom, 1 Bath, Hot Tub
Sleeps 2
$1890 Low Season (Apr 16-Dec 14)
$2275 High Season (Dec 15-Apr 15)
Please note: We never advertise on Craigslist. We will never request guests to wire money directly to our bank accounts.
If you should encounter either of these please contact us directly to avoid fraud.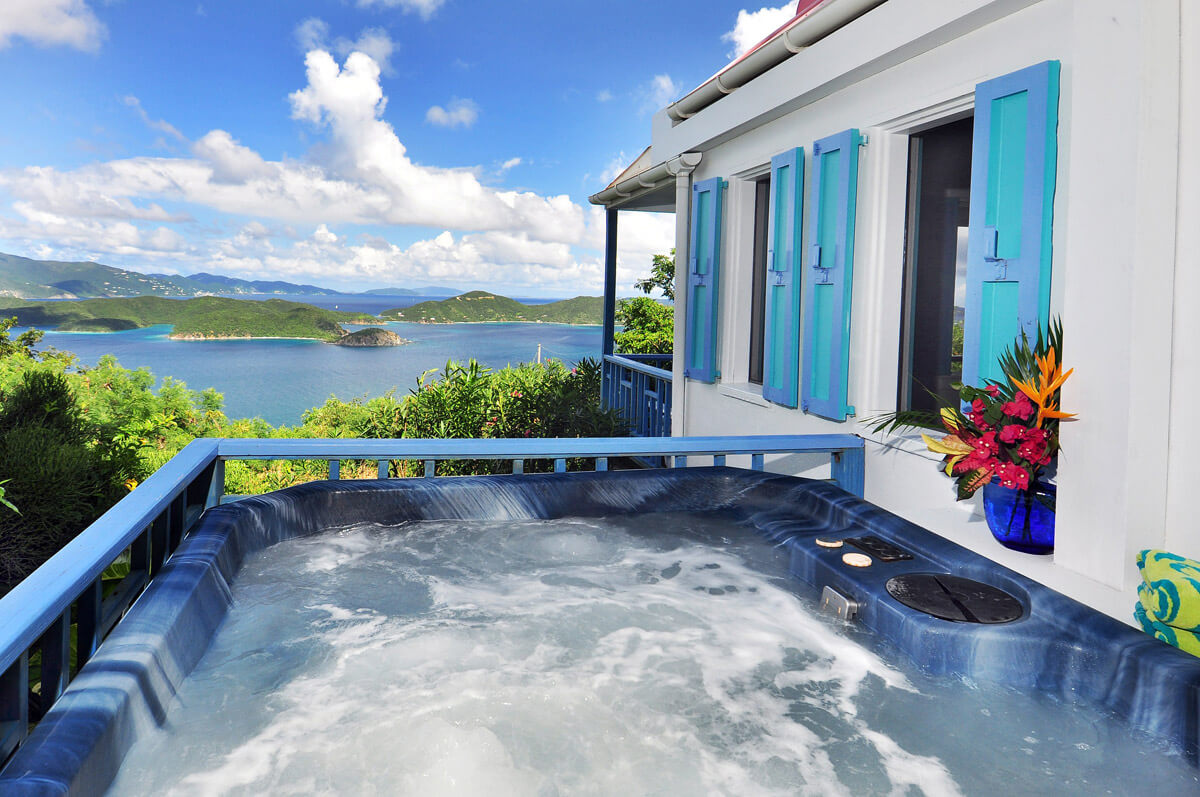 Welcome to Sago Cottage, a charming home nestled into the hillside above Coral Bay on St. John, Virgin Islands. Sago Cottage is a traditional west Indian structure – open and airy with brightly painted shutters and covered decks overlooking a gorgeous view. From its intimate and tasteful furnishings to its private hot tub under the stars, it is the perfect spot for a romantic holiday for two. The details and amenities are designed to give our guests an experience of the West Indies of a bygone era. With the cooling breezes and the captivating view you may never want to leave this idyllic hideaway.
The covered porches were designed and furnished with comfort in mind. They hold a small dining table, reading chairs and a porch swing to while away the rare rainy afternoon. A coconut shell bird feeder attracts a delightful group of finches in the mornings. The view to the south and east is of the eastern end of St. John, the neighboring British Islands and the Caribbean Sea. This peaceful spot has unforgettable sun rises as well as moon rises.
Amenities
Hot Tub
Snorkel Gear
Beach Chairs
Cooler
Beach Umbrella
BBQ
TV & DVD Player
Fresh Flowers
Robes, All Linens & Towels
Safe for Valuables
Wi-Fi Internet
Activities
We are happy to make suggestions for activities that suit your interests.  When you arrive at your cottage we will go over a map of the island and point out the best beaches, hiking trails, snorkel spots, etc.  Most activities can be arranged once you are on island but if you are planning a day on the water you may want to arrange that in advance.
Arrival
Sago Cottage is managed by on island owners. We will meet you on arrival, arrange for discounted car rentals and provide the personal attention you need to make your stay with us as pleasant and relaxing as possible. We can also arrange for a driver to meet your flight for the 50 minute ride to the Red Hook ferry dock.
Availability Calendar for Sago Cottage
Guest Reviews for Sago Cottage
The best week of my year
Sara E.
12-17-2010
We had a wonderful time and we didn't want to leave. Sago Cottage was everything it promised. The staff was very easy to work and took a lot of care with our arrangements. The location of the cottage was just perfect. The views were impressive. We were right in the middle of the north and south shore beaches and not far from many of the great hiking trails. The south side beaches should not be missed - especially for snorkling. We also loved Coral Bay and met a lot of friendly locals who made us want to move to St. John!
Our Response
We are so happy to hear that you enjoyed your stay at Sago and also appreciate your taking the time to review your visit. Thank you for staying with us. If you ever do decide to relocate to St. John (and I can quickly think of at least five couples who stayed at Sago and did just that) be sure to look us up!
Perfect Honeymoon!
Katherine D.
11-13-2010
Sago Cottage is everything we hoped for and more for our honeymoon! If you are like us and do not like resorts and big crowds, this cottage is perfect. Not only is the house set up on a hill with tons of privacy and no neighbors, it is in a great location in Coral Bay, which is a laid back and slow paced part of the island with lots of character and great local spots! While you do have to have a Jeep if you stay here, that was one of our favorite parts was driving around! Just down the hill are some of the best restarurants in Coral Bay so you don't need to drive far if you don't want to.
The cottage itself looks exactly like the pictures shown, I thought it was too good to be true! The cottage is clean, comfortable, and had everything we needed. There is no A.C. however the fans and breeze felt perfect and we were never uncomfortable. Some other reviews mentioned a problem with bugs, however we were lucky in that we did not have too many. Yes, there were occasional intruders and a few ants in the kitchen by the end of the week, but nothing that a quick wipe down couldn't fix! As long as all your food is kept in the refrigerator there is no problem! The hot tub was amazing and the view around the whole cottage is breathtaking. We were supplied with ample towels, two coolers, two beach chairs, and snorkel gear. The shower is outside and makes you truely feel like you are living the island life with the hummingbirds right above you every morning.
The staff at Sago Cottage could not have been more wonderful. We were greeted by Jen at the ferry who drove us to pick up our jeep, stopped by the grocery store with us, then lead us to the cottage and went over our maps. We later booked a Kayak tour with her as well! Our second day we called the office because our snorkel gear did not fit and we were greeted at the bottom of the hill within the hour by Dianne with new gear. The whole process was smooth and enjoyable from the moment we arrived until we left! We have wonderful memories of our time at Sago cottage and would recommend it to anyone looking for a peaceful escape!
Katherine and Connor Mathis
Virginia Beach, VA
We loved this cottage!
Carole S.
10-20-2010
This was our first trip to St. John and we could not have made a better choice. Sago Cottage exceeded our expectations. It was well maintained, super clean (I'm a bit fussy) a completely adorable. The road getting up there was a bit rough but it was part of the adenture. And completely worth it for the incredible view. The owners thought of everything we could need for a perfect vacation. They arranged for a taxi to take us from the airport to the ferry where we were met. They had the jeep rental all set up. We had a great week. The hike to reef Bay was beautiful ith Sugar mill ruins at the bottom. We were also glad that we stayed in Coral Bay. Very laid back and friendly. We went to Cruz bay once and were glad to get "home" to Coral Bay We plan to make this an anual tradition..
Sago Cottage near Coral Bay
12-02-2009
The layout was perfect for two with a great porch for enjoying a world class view of the eastern end of St.J and Tortolla. Lot's of windows, ceiling fans with ocean breeze made the cottage cool no ac required. The tree frogs at night was an incredible sound that made us both very sleepy. The road to get to the cottage is dirt and very windy but fun in the jeep and may not be for everyone. This area of St.J is the best, laid back and best beaches Salt Pond and Lamshure and great hiking. There were plenty of bath and beach towels, the outside shower took some getting used to but refreshing and again outstanding views from the shower and hot tub area. The home is very well built and maintained a west indies feel all the way. The only problem we had was with the oven, it burnt everything but we were ok with that since it gave us an excuse to eat out every night. The Aqua Bistro and Lucy's were our favorites. We will be back to coral bay and would recommend this cottage for a true natural caribbean experience.