1 Bedroom, 1 Bath, Hot Tub
Sleeps 2
$1890 Low Season (Apr 16-Dec 14)
$2275 High Season (Dec 15-Apr 15)
Please note: We never advertise on Craigslist. We will never request guests to wire money directly to our bank accounts.
If you should encounter either of these please contact us directly to avoid fraud.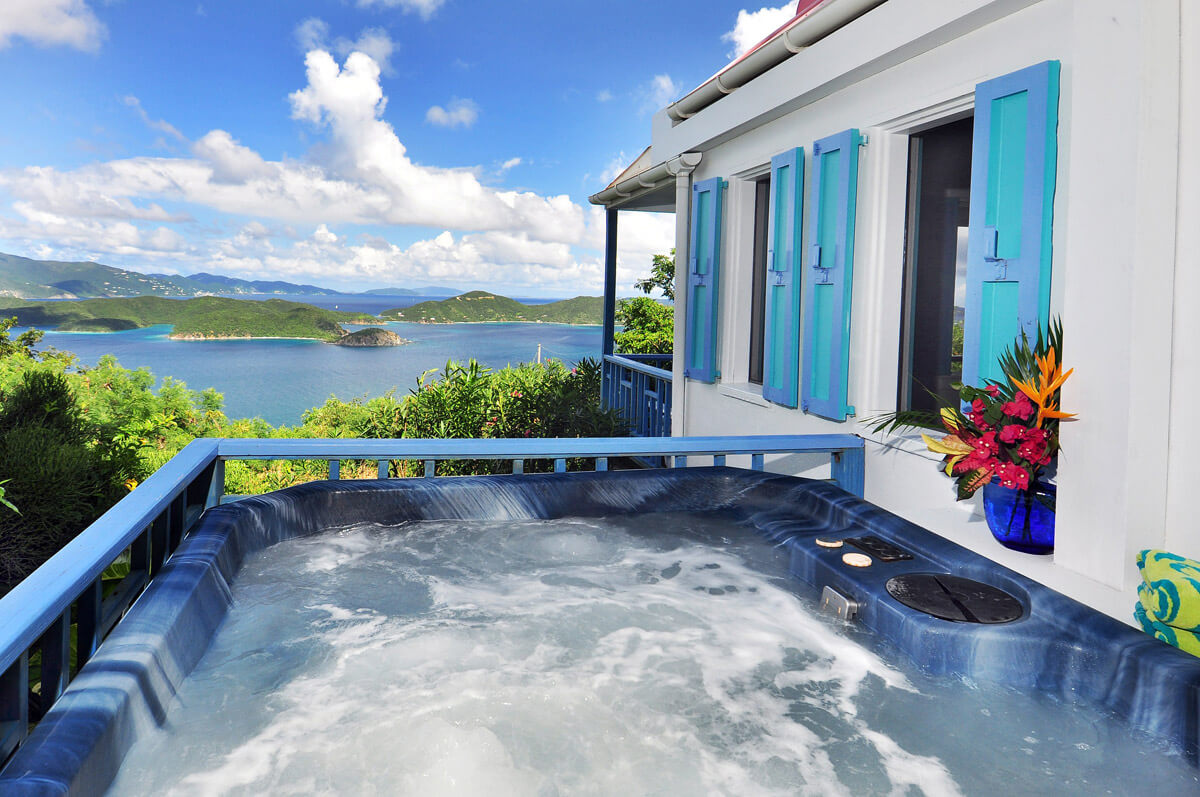 Welcome to Sago Cottage, a charming home nestled into the hillside above Coral Bay on St. John, Virgin Islands. Sago Cottage is a traditional west Indian structure – open and airy with brightly painted shutters and covered decks overlooking a gorgeous view. From its intimate and tasteful furnishings to its private hot tub under the stars, it is the perfect spot for a romantic holiday for two. The details and amenities are designed to give our guests an experience of the West Indies of a bygone era. With the cooling breezes and the captivating view you may never want to leave this idyllic hideaway.
The covered porches were designed and furnished with comfort in mind. They hold a small dining table, reading chairs and a porch swing to while away the rare rainy afternoon. A coconut shell bird feeder attracts a delightful group of finches in the mornings. The view to the south and east is of the eastern end of St. John, the neighboring British Islands and the Caribbean Sea. This peaceful spot has unforgettable sun rises as well as moon rises.
Amenities
Hot Tub
Snorkel Gear
Beach Chairs
Cooler
Beach Umbrella
BBQ
TV & DVD Player
Fresh Flowers
Robes, All Linens & Towels
Safe for Valuables
Wi-Fi Internet
Activities
We are happy to make suggestions for activities that suit your interests.  When you arrive at your cottage we will go over a map of the island and point out the best beaches, hiking trails, snorkel spots, etc.  Most activities can be arranged once you are on island but if you are planning a day on the water you may want to arrange that in advance.
Arrival
Sago Cottage is managed by on island owners. We will meet you on arrival, arrange for discounted car rentals and provide the personal attention you need to make your stay with us as pleasant and relaxing as possible. We can also arrange for a driver to meet your flight for the 50 minute ride to the Red Hook ferry dock.
Availability Calendar for Sago Cottage
Guest Reviews for Sago Cottage
Sago Cottage is great!
Beth R.
01-26-2012
We loved everything about Sago Cottage...the privacy and seclusion was the best part. The views were amazing! Thank you to Diane, Susan and their staff for making our stay so enjoyable. We stayed for one week during our honeymoon and it was the best choice for us...hope to return some day in the future! 🙂
Loved it!
LA Girl
12-31-2011
My husband and I stayed here for our honeymoon and had a great time! We pick this cottage because of the views and they were better then what we had expected. It took a little getting use to not to be able to lock the doors/window and using the outside shower, but I think that's what makes you feel like you are living the island life. Location is very private and only a short ride to north shore beaches. Must be an adventure seeker to stay here. Thanks again Diane and Susan!
Beautiful & Secluded!
Kate M.
10-19-2011
My husband and I chose Sago Cottage as our honeymoon destination. The place seemed too good to be true, but somehow managed to surpass our expectations. The views and seclusion are what made us choose this lovely cottage and we would have never had this sort of romantic and adventurous trip in a traditional all inclusive honeymoon resort. That being said, you should definitely be sure you like this sort of vacation. You need to rent a 4-wheel drive vehicle and drive a bit to get to beaches and restaurants. We had some of the most fun driving around though and loved the freedom to go wherever we wanted. You also have to be ok with the idea that you are sleeping and staying with unlocked doors and that you are in fact in the islands, so small creatures and insects do make their way inside. We never felt unsafe and had no trouble with security. This is a vacation home for an adventurous couple that enjoys freedom, peace and quiet. The seclusion allows for the most amazing of views and it's unbelievable to feel as though you are the only two on the island! The hot tub was perfect for late night drinks and relaxation, you can watch the sunrise without leaving your bed, and the simple but ample amenities make for a comfortable stay. LOVE, LOVE, LOVE! We cannot wait to plan a trip back.
Our Response
Dear Kate and Nick, We're glad that you had such a wonderful honeymoon on St. John. Thanks for staying with us! Susan
Perfect Honeymoon!
Lara
05-25-2011
I cannot possibly say enough about Sago Cottage and its owners and managers (Susan, Paul & Diane, with a bonus mention to David, our greeter). It is everything represented in this listing and more. I was a little wary of spending our honeymoon in a rented cottage, but Susan and Diane took such great care of us from the moment we booked the cottage, we never had to worry about anything! They booked our jeep rental for us, they arranged our transportation from the airport to the ferry, they had some one waiting at the ferry dock to take to get the car and stock up on groceries... Not a detail was missed. They truly made the experience easy and stress-free. Add to that that the cottage is THE. MOST. PERFECT. LITTLE. COTTAGE! and I knew the second we walked in that we could never have picked a more perfect place for our honeymoon. It's very secluded...not a neighbor in sight! Very private!) The location is amazing...centrally located to everything we were interested in (north and south shore beaches) and not a bad drive to Cruz Bay (we only went once...Coral Bay is much more our speed). There are at least 5 fabulous restaurants right by the cottage! Sweet Plantains and Shipwreck's landing were my favorites, but previous guests raved about Aqua Bistro as well!
We had a little bit of bad luck with the weather. It was overcast or raining much of the week, but we still went out and explored the island and the beaches (Maho Bay, Leinster Bay/Waterlemon Bay, and Salt Pond Bay are not to be missed!). I can't wait to come back for an anniversary!!!!!
Our Response
Dear Lara and Adam We are so happy that you chose Sago Cottage for your honeymoon. Thanks for taking the time to tell future guests about you experience both at the cottage and on the island. We hope to see you on a return trip! Susan
Quiet Christmas
01-10-2011
My wife and I throroughly enjoyed our visit to St. John and Sago Cottage. The views from the cottage porch of the various bays and islands speak for themselves during the beautiful sunrises and the moon filled night sky. We enjoyed the access to the many beaches the variety of which allows for a good beach day. We appreciated the various amenities provided at the cottage including the beach and snorkeling gear. The concierge service was very helpful as an introduction to the island and escorting us to the cottage. The cottage was very comfortable and included many nice touches to make our visit even more enjoyable. We look forward to our next visit.