1 Bedroom, 1 Bath, Hot Tub
Sleeps 2
$1890 Low Season (Apr 16-Dec 14)
$2275 High Season (Dec 15-Apr 15)
Please note: We never advertise on Craigslist. We will never request guests to wire money directly to our bank accounts.
If you should encounter either of these please contact us directly to avoid fraud.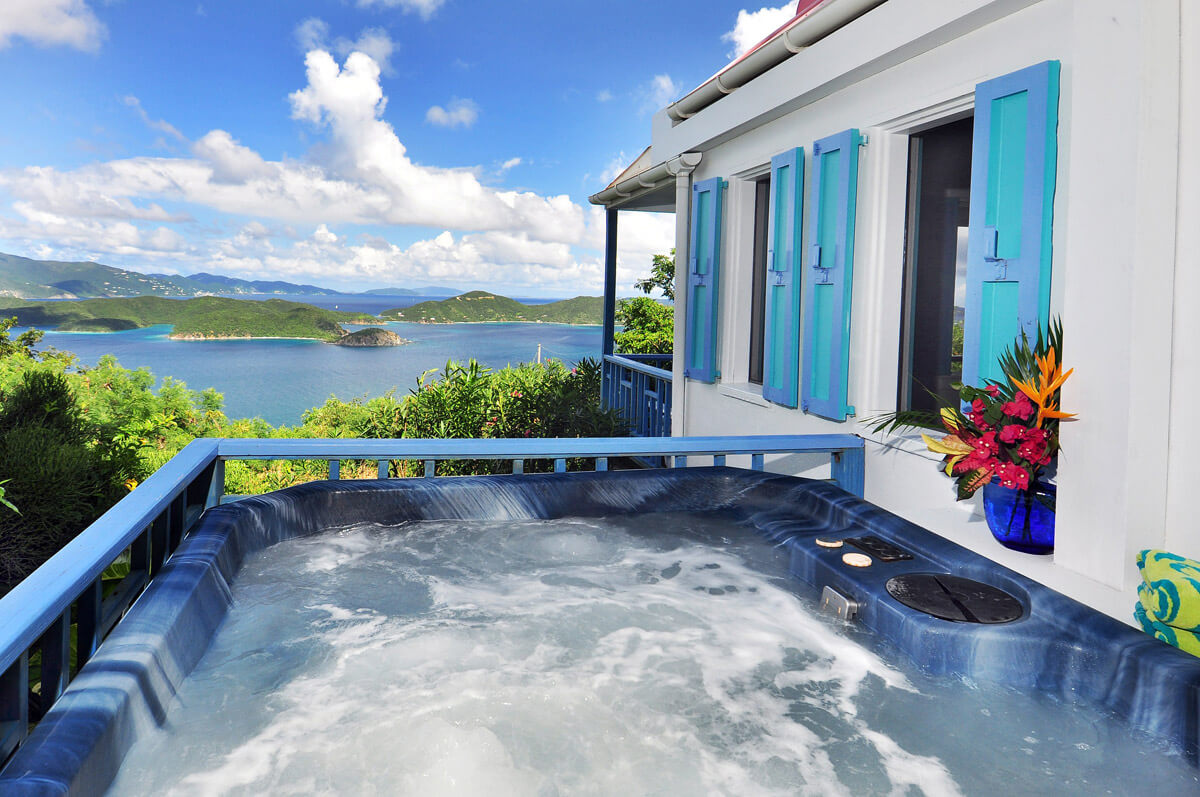 Welcome to Sago Cottage, a charming home nestled into the hillside above Coral Bay on St. John, Virgin Islands. Sago Cottage is a traditional west Indian structure – open and airy with brightly painted shutters and covered decks overlooking a gorgeous view. From its intimate and tasteful furnishings to its private hot tub under the stars, it is the perfect spot for a romantic holiday for two. The details and amenities are designed to give our guests an experience of the West Indies of a bygone era. With the cooling breezes and the captivating view you may never want to leave this idyllic hideaway.
The covered porches were designed and furnished with comfort in mind. They hold a small dining table, reading chairs and a porch swing to while away the rare rainy afternoon. A coconut shell bird feeder attracts a delightful group of finches in the mornings. The view to the south and east is of the eastern end of St. John, the neighboring British Islands and the Caribbean Sea. This peaceful spot has unforgettable sun rises as well as moon rises.
Amenities
Hot Tub
Snorkel Gear
Beach Chairs
Cooler
Beach Umbrella
BBQ
TV & DVD Player
Fresh Flowers
Robes, All Linens & Towels
Safe for Valuables
Wi-Fi Internet
Activities
We are happy to make suggestions for activities that suit your interests.  When you arrive at your cottage we will go over a map of the island and point out the best beaches, hiking trails, snorkel spots, etc.  Most activities can be arranged once you are on island but if you are planning a day on the water you may want to arrange that in advance.
Arrival
Sago Cottage is managed by on island owners. We will meet you on arrival, arrange for discounted car rentals and provide the personal attention you need to make your stay with us as pleasant and relaxing as possible. We can also arrange for a driver to meet your flight for the 50 minute ride to the Red Hook ferry dock.
Availability Calendar for Sago Cottage
Guest Reviews for Sago Cottage
The Perfect Vacation Spot
Terry K.
03-03-2014
Sago Cottage is a perfect get away location in Coral Bay on St. John. My husband and I have been lucky enough to stay in this cottage four separate vacations. The cottage is clean, comfortable and private. It is conveniently located near some wonderful restaurants and great snorkeling locations. Customer service is exemplary - you are greeted and driven to the location and receive a call during the week to ensure all is well. We look forward to spending time at Sago Cottage for many years into the future.
Our Response
Nothing makes us feel more like we made our guests happy than return visits. So glad to have you back for a fourth visit. The crew let me know that you were excited the improvements and upgrades that we did in the past year which I was very happy to hear. We had a lot of fun doing it! Susan
Truly Magical !
Kathy & Ed H.
12-24-2013
Sago is truly a magical place, with one of the most spectacular views in all of the Caribbean. Susan, the owner, sure know how to create an idyllic and romantic setting for honeymooners as well as couples who want to spend a week in paradise. It was a joy working Diane is her very friendly and capable assistant who skillfully attends to all details to make your visit run smoothly. Sago Cottage is located up a steep winding hillside and nestled among lush vegetation. It is a one-bedroom affair with an open plan, high ceilings with fans to keep you cool, a wrap around porch and an outside spa and shower. The interior as well as exterior has tropical blue and green painted shutters, adding to its unique charm. It has every amenity one could need in the tropics. The kitchen is well appointed, and we made good use of it for breakfasts and most dinners. Lunches were spent at the various wonderful local restaurants on our way to or from one of the islands amazing beaches. Evenings were spent soaking in the spa and watching the stars (of full moon, if you're lucky). The outdoor shower has a view to die for, overlooking various islands in the distance that are incredibly dramatic with the changing light. We have visited many islands and stayed at many places, and we can say, unequivocally, that Sago is one of the most special places the Caribbean has to offer. This was our third time but it definitely not our last!
THE BEST!!!
Andrea W.
01-23-2013
The folks at Calabash Cottages, which manages Sago Cottage, made our trip to St. John perfect! They are so efficient and friendly that we had absolutely no glitches or stress! From the moment we contacted them to reserve the week at Sago, they provided all necessary information and assistance--private transportation from the St. Thomas Airport (and return) and rental car. We had stayed at one of the other Calabash properties a few years ago so we knew what to expect. A well-equipped cottage with all the conveniences, a spectacular view, and any needed help while on the island. We have rented other vacation properties in the US and foreign countries, and I can easily say that Susan Brierley and her staff are THE BEST managers anywhere! We can't wait to return to Sago or one of Calabash's other properties!
Our Response
Hi Andrea- It was nice to have you stay with us again. Thank you for your kind words about sago and our staff. We look forward to seeing you on your next visit to St. John! Susan
Just what we wanted for a romantic getaway!
Christine H.
01-07-2013
My husband and I wanted to get away and relax on St. John so the place we stayed was very important to us. We wanted secluded and quiet with excellent views. Sago Cottage was absolutely perfect and we would definitely consider staying there again. The porch was fantastic (our favorite part) and the accommodations provided everything we needed and wanted.
We were also pleasantly surprised at how well we were cared for by Susan and her staff. We were taken care of from the moment we arrived on St. Thomas, given excellent recommendations by her staff, and provided with snorkel gear, beach chairs, and everything we needed to enjoy the island.
I highly recommend Sago Cottage!
Everything we expected!
Russel W.
06-13-2012
My wife and I stayed in a similar cottage on Kauai, and Sago Cottage was equally delightful. The short drive on the bumpy road was no problem, and the privacy of the cottage was well worth it. The trees and flowers surrounding the cottage make a beautiful setting, and the view of the bay is stunning. We awoke each morning to the sunrise over the east end, made coffee, put water in the bird bath and watched the birds line up to play in it. The outdoor shower on the back side of the cottage provided natural privacy and beauty; regardless of morning or evening. The cottage fearture were just as described: very comfortable bed/linens/towels, complete kitchen accomodations, and balcony features. Being quite high up the hill, the breeze through the cottage made the temperature just perfect (and my wife has a very narrow comfort range). If we're able to return to St John in the future, we would definitely stay at Sago Cottage again.
Russ Wenzlick