1 Bedroom, 1 Bath, Hot Tub
Sleeps 2
$1890 Low Season (Apr 16-Dec 14)
$2275 High Season (Dec 15-Apr 15)
Please note: We never advertise on Craigslist. We will never request guests to wire money directly to our bank accounts.
If you should encounter either of these please contact us directly to avoid fraud.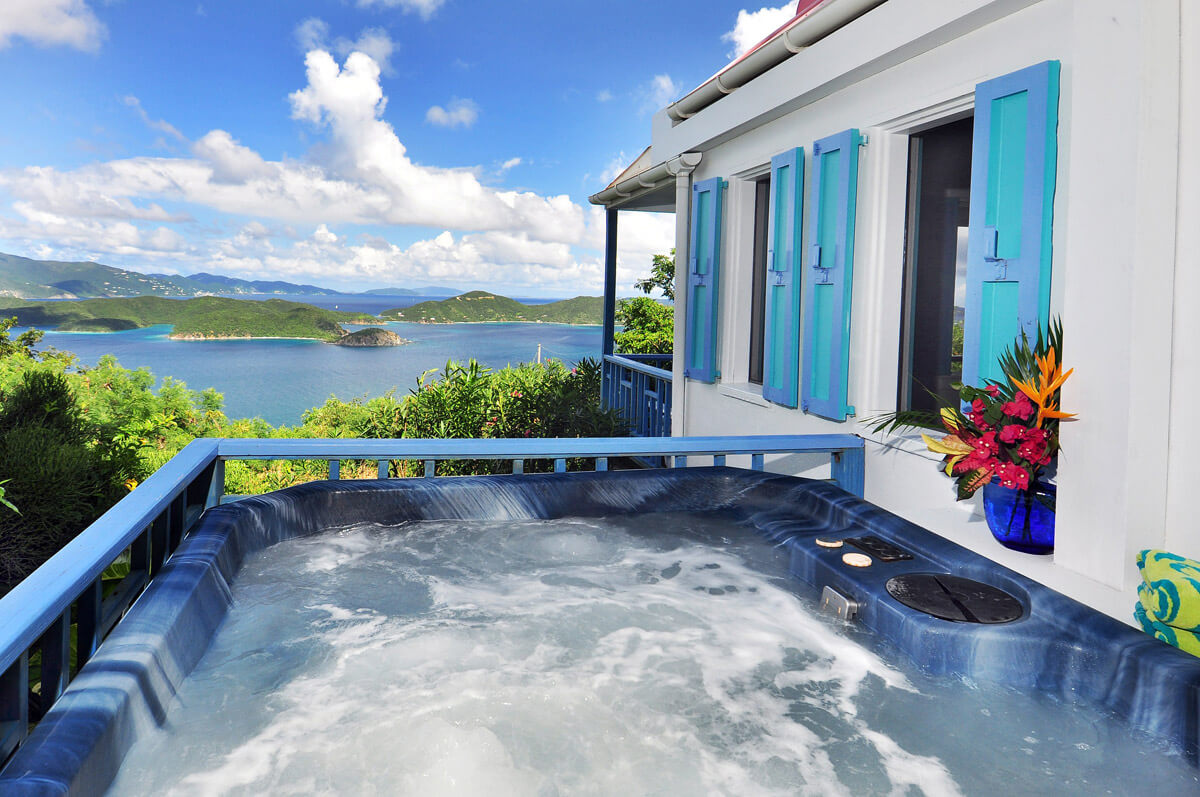 Welcome to Sago Cottage, a charming home nestled into the hillside above Coral Bay on St. John, Virgin Islands. Sago Cottage is a traditional west Indian structure – open and airy with brightly painted shutters and covered decks overlooking a gorgeous view. From its intimate and tasteful furnishings to its private hot tub under the stars, it is the perfect spot for a romantic holiday for two. The details and amenities are designed to give our guests an experience of the West Indies of a bygone era. With the cooling breezes and the captivating view you may never want to leave this idyllic hideaway.
The covered porches were designed and furnished with comfort in mind. They hold a small dining table, reading chairs and a porch swing to while away the rare rainy afternoon. A coconut shell bird feeder attracts a delightful group of finches in the mornings. The view to the south and east is of the eastern end of St. John, the neighboring British Islands and the Caribbean Sea. This peaceful spot has unforgettable sun rises as well as moon rises.
Amenities
Hot Tub
Snorkel Gear
Beach Chairs
Cooler
Beach Umbrella
BBQ
TV & DVD Player
Fresh Flowers
Robes, All Linens & Towels
Safe for Valuables
Wi-Fi Internet
Activities
We are happy to make suggestions for activities that suit your interests.  When you arrive at your cottage we will go over a map of the island and point out the best beaches, hiking trails, snorkel spots, etc.  Most activities can be arranged once you are on island but if you are planning a day on the water you may want to arrange that in advance.
Arrival
Sago Cottage is managed by on island owners. We will meet you on arrival, arrange for discounted car rentals and provide the personal attention you need to make your stay with us as pleasant and relaxing as possible. We can also arrange for a driver to meet your flight for the 50 minute ride to the Red Hook ferry dock.
Availability Calendar for Sago Cottage
Guest Reviews for Sago Cottage
Absolutely perfect
Shaina B.
12-21-2014
We were very pleased with our stay at Sago Cottage. The house was beautiful and had all the amenities of home. We really had no complaints. Even though there were no glass windows or AC the trade winds keep the house cool most of the day. The view is simply amazing the pictures (though beautiful) don't do it justice. We took the advice to Keep all food in the fridge so ants don't come in and didn't have any problems. The sunrises are worth the early rise. So don't miss them! Susan and her office staff make your trip smooth sailing if you take their advise. They arranged transportation to and from St. Thomas and set up our rental car on St. John. The whole vacation went off without a hitch. Don't be scared of the hill to the cottage, it gets easier everytime! We WILL be staying there again. What an amazing experience.
Our Response
Dear Shaina, I am very happy to hear that you plan to return to Sago. That is the best compliment that we can receive. I am also glad to hear that you took advantage of the sunrises. My husband and I love to stay at Sago when there are open nights and coffee at sunrise in the hot tub is a must. We also have fabulous moon rises during the week of the full moon. Thank you for staying at Sago and sharing your experiences. Susan
Sago Cottage Review
Julie
12-14-2014
this place is magical! we had a wonderful time...the views are awesome, very private, peaceful, quiet (except for the frogs croaking and birds chirping, which made it even more magical!!) i'll have a difficult time coming back to St. John and staying anywhere else!
Our Response
Thanks, Julie. I am delighted to hear that you enjoyed the magic of Sago Cottage. If you return to St. John we hope to have you as future guests. Thanks for choosing our cottage. Susan
Michael and Marjorie
Mike
12-03-2014
We just returned from our stay at Sago Cottage. Everything we can say about this wonderful Cottage has been said and noted in the reviews. If you are looking for a memorable, beautiful, romantic lifetime experience, you will find it at Sago Cottage. We have been fortunate to have stayed at a number of beautiful places but this was special and exceeded our expectations. We will return. Susan has a great team and they will address any need you may have--FIRST CLASS.
Amazing Honeymoon!!
Kim and Lee
10-07-2014
We had the most amazing honeymoon here at Sago Cottage. We were pleasantly greeted by Susan when we arrived and were shown around the cottage, which had it all. The view is absolutely breathtaking. We try to show pictures and explain how amazing it is but there is no putting it into words. It does take ~4 minutes to get up from the main road but for us it was fun driving on the bumpy road. The cottage was very clean and well taken care of! We loved how there were only screens in the windows to allow the fresh air to come through. According to the locals, we were there during the warmest and most humid time and it wasn't an issue not having AC. Sago had snorkeling gear, beach chairs, beach towels, coolers, and everything else we needed. We didn't do much cooking only because it was our honeymoon, but the kitchen was fully equipped if we had chosen to do so. There was even a grill on the deck. We also loved the outdoor rock shower and hot tub. FYI - you can't use your cell phone but the wifi allowed us to email and iMessage who we needed to throughout the week and the cottage phone made local calls.
Susan also had great recommendations on what we could do while on the island. Bryan, who works as a greeter for Calabash Cottages, takes people out on a lap around St. John on Wednesdays on his catamaran named Busy Bee. We loved snorkeling so we were very interested so Susan went out of her way to check on availability for us. We had an amazing time thanks to her info and his trip!
We couldn't have had a more relaxing honeymoon. We loved being on Coral Bay because we were still able to meet locals and other travelers but it was more low key with a better view and breeze. We didn't mind driving to Cruz Bay either when we did choose to go over there. We appreciated all the help from Susan and the rest of her team and the calls throughout the week to see if we needed anything! We cannot wait to make a trip back and stay with you again.
Our Response
Hi Kim and Lee, I really enjoyed meeting you both. I've told several people what troopers you guys were. No one would have guessed that you hadn't slept at all the night before. Glad the snorkel/ boat trip with Bryan worked out. I had a feeling that you two would enjoy that. Thanks for spending your honeymoon at Sago. We hope to see you back someday! Susan
Great cottage and an awesome vacation
Chad C.
09-25-2014
My wife and I spent our 20th anniversary in the Sago Cottage. Susan and her team was great to work with and helped arrange every detail. The cottage is very well equipped with everything we needed to make our stay fantastic. The views from every room, the deck, the hot tub, and the shower are breathtaking. Thank you for a great stay, we can't wait to go back!
Our Response
Dear Chad, I am very glad to hear that we lived up to your expectations. My whole team tries hard to make sure that your vacation goes well, from the planning to the arrival at the airport and throughout your stay. It's all worthwhile when we hear that we've succeeded. Thank you for staying at Sago. My husband and I built Sago almost 20 years and did the majority of the work ourselves. It was and still is a labor of love and we do our best to keep it well maintained. If you and Gina return to the island we hope to see you again. All the best, Susan