1 Bedroom, 1 Bath, Hot Tub
Sleeps 2
$1890 Low Season (Apr 16-Dec 14)
$2275 High Season (Dec 15-Apr 15)
Please note: We never advertise on Craigslist. We will never request guests to wire money directly to our bank accounts.
If you should encounter either of these please contact us directly to avoid fraud.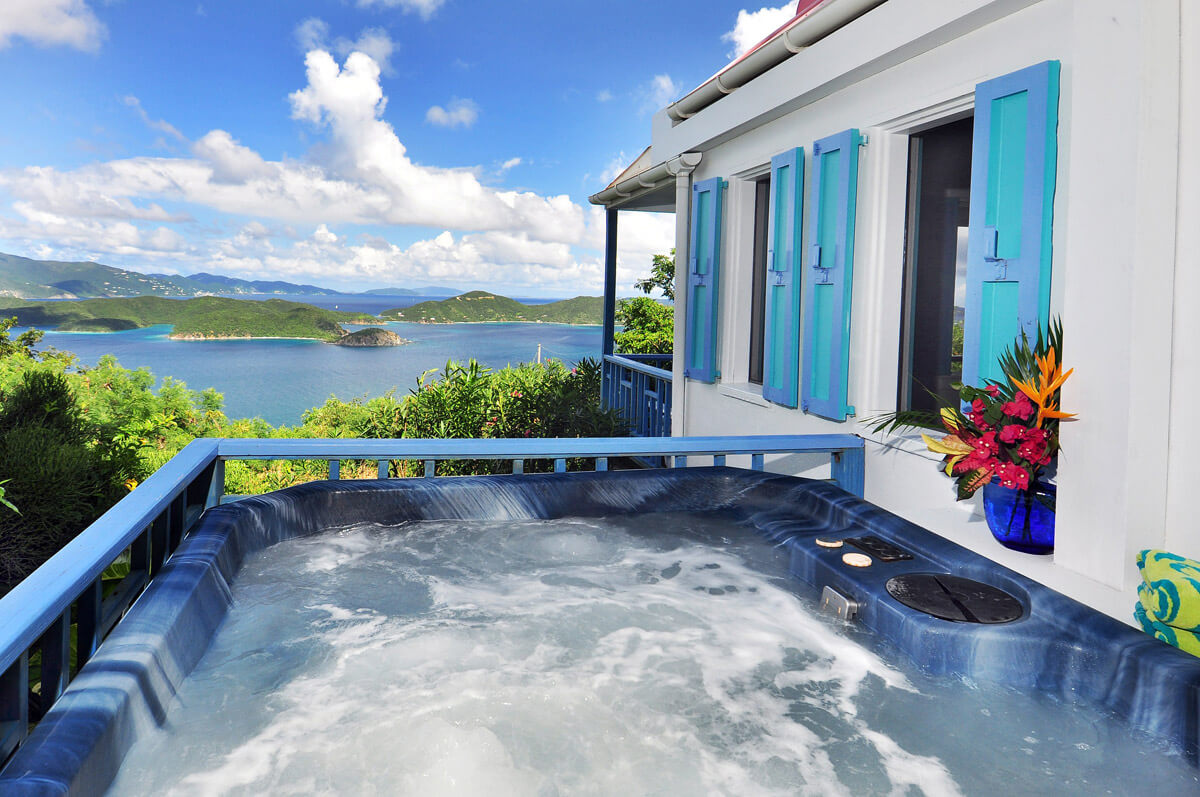 Welcome to Sago Cottage, a charming home nestled into the hillside above Coral Bay on St. John, Virgin Islands. Sago Cottage is a traditional west Indian structure – open and airy with brightly painted shutters and covered decks overlooking a gorgeous view. From its intimate and tasteful furnishings to its private hot tub under the stars, it is the perfect spot for a romantic holiday for two. The details and amenities are designed to give our guests an experience of the West Indies of a bygone era. With the cooling breezes and the captivating view you may never want to leave this idyllic hideaway.
The covered porches were designed and furnished with comfort in mind. They hold a small dining table, reading chairs and a porch swing to while away the rare rainy afternoon. A coconut shell bird feeder attracts a delightful group of finches in the mornings. The view to the south and east is of the eastern end of St. John, the neighboring British Islands and the Caribbean Sea. This peaceful spot has unforgettable sun rises as well as moon rises.
Amenities
Hot Tub
Snorkel Gear
Beach Chairs
Cooler
Beach Umbrella
BBQ
TV & DVD Player
Fresh Flowers
Robes, All Linens & Towels
Safe for Valuables
Wi-Fi Internet
Activities
We are happy to make suggestions for activities that suit your interests.  When you arrive at your cottage we will go over a map of the island and point out the best beaches, hiking trails, snorkel spots, etc.  Most activities can be arranged once you are on island but if you are planning a day on the water you may want to arrange that in advance.
Arrival
Sago Cottage is managed by on island owners. We will meet you on arrival, arrange for discounted car rentals and provide the personal attention you need to make your stay with us as pleasant and relaxing as possible. We can also arrange for a driver to meet your flight for the 50 minute ride to the Red Hook ferry dock.
Availability Calendar for Sago Cottage
Guest Reviews for Sago Cottage
Perfect Island Cottage for Romantic Engagement Week
11-05-2015
This was our second time staying at Sago and it will always be very special to us. During our most recent trip I proposed to my now fiancee and we had a perfect week! Our travel to St. John was a mess but a simple call to Susan and her staff was enough to make sure that the ride from the airport, ferry, rental car, and lodging were all still perfectly arranged for a smooth first night on the island. What could have been a horrible start to our vacation was made very simple thanks to Susan, Warren G Taxi, Diane, Margaret and the whole team at Calabash.
Sago offers a beautiful view of the east end of St. John, Norman Island, Coral Bay, and the Hurricane Hole. The cottage is uniquely positioned close to the Salt Pond trails and snorkeling areas as well as north shore road and Anaberg ruins. Grocery shopping should be done at the starfish market when you arrive but you can always visit Louis at the Love City Market in Coral Bay or the Calabash Market. We particularly enjoyed spending time at Skinny Legs and snorkeling Waterlemon Bay. Aqua Bistro is an excellent restaurant with an outstanding bar. The Ram's Head Trail is also close by and is a hot but rewarding hike. In past trips we also enjoyed the morning yoga at Concordia but unfortunately this was closed during our most recent visit. Apparently many things open in mid-November for the "season".
If planning to stay at Sago, make sure to reserve a vehicle with 4WD. This is a MUST and also opens up the island for exploring. I personally love driving on the island but have to remember to KEEP LEFT! The road up to the cottage from salt pond road is very steep and the turns into dirt/gravel. There are two paved switch-backs before you get to the cottage and it helps to switch out of 4WD to make these turns (and go easy on your vehicle's transmission). I have never had trouble on the roads, even in moderate rain, just go slow and make sure to utilize your 4WD!
The sunrise from this cottage is breathtaking! When clear at nighttime (usually a few hours after sunset), it is nice to enjoy the night sky from the spa (while also avoiding mosquitos and no see ums). I would recommend utilizing the mosquito repellant incense or candles while in the spa or outdoor shower. The indoor fans and mosquito netting help prevent these pests while inside and sleeping. Be prepared for morning visits from "sneezy" the friendly island cat and local donkeys.
Sago Cottage
Shned
05-20-2015
Secluded, romantic villa with everything you need to step away from the world. Wrap around porch with amazing views. Outdoor shower and jacuzzi to add to the romantic ambiance. Comfortable 4 poster bed. Drive up to the villa not for the weak of heart.
Our Response
I am very glad to hear that you enjoyed your stay at our romantic cottage. I have to admit that the road is annoyingly bumpy. Fortunately, it is only 2/3 of a mile although I know it seems longer. Good news on the horizon- The homeowners on the road have kicked in last winter to make improvements. We are just waiting for a bit of rain before we can get going on that. Thanks again for staying at Sago. Susan
Ságo, your own paradise!
Michael S.
03-13-2015
From the moment we stepped off the boat Susan's staff was there to meet us. After renting a car another staff member met us in coral bay and showed us to the house and all its amenities. The house was perfect. The view is breathtaking at any time of day or night. It was spotlessly clean and fully decked out for maximum island enjoyment. The beach chairs, coolers, and snorkel gear were all clean and of top notch quality. We loved the hot tub! Clean filtered water, a great outdoor shower, and the wonderful decor all aided in getting us into the island vibe. Coral bay is so removed and quiet. We often felt like we had the whole island to ourselves. I can not recommend Susan and her staff more. They were all great. If planning a Caribbean vacation, you can't do better than ságo cottage and calabash rentals. Just perfect.
Our Response
I appreciate your letting us and future guests know that you had such a nice stay at Sago Cottage. My staff and I try to make sure our guests have a wonderful vacation and a review that lets us know we succeeded in that always makes us smile. Thank you! Susan
This was our first time at St.John & we will be back!! The staff at Calabash Cottages were very helpful. They were attentive & accommodating and we can't recommend them enough. The view at Sago Cottage cannot be beat!
Our Response
Thank you for staying with us at Sago and for your kind words about our staff. I am sure they will be happy to hear that you were pleased with their efforts. We hope you return to Sago to enjoy more of the beautiful view. The week of the full moon is an especially lovely time to be up there. The moon rise over the water is gorgeous. Thank you for your review. Susan
This was our third time and each one was better than the time before. Oustanding location, million dollar view, ideal privacy and wonderful accommodations