1 Bedroom, 1 Bath, Hot Tub
Sleeps 2
$1890 Low Season (Apr 16-Dec 14)
$2275 High Season (Dec 15-Apr 15)
Please note: We never advertise on Craigslist. We will never request guests to wire money directly to our bank accounts.
If you should encounter either of these please contact us directly to avoid fraud.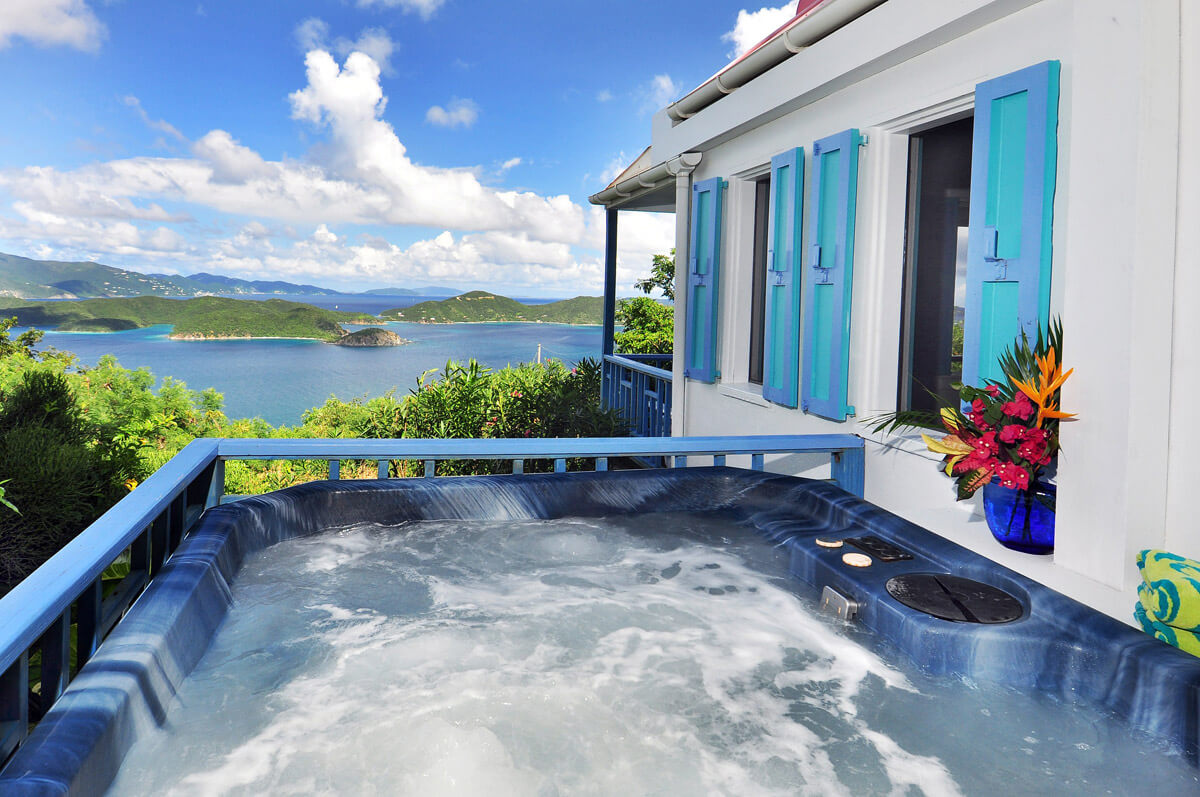 Welcome to Sago Cottage, a charming home nestled into the hillside above Coral Bay on St. John, Virgin Islands. Sago Cottage is a traditional west Indian structure – open and airy with brightly painted shutters and covered decks overlooking a gorgeous view. From its intimate and tasteful furnishings to its private hot tub under the stars, it is the perfect spot for a romantic holiday for two. The details and amenities are designed to give our guests an experience of the West Indies of a bygone era. With the cooling breezes and the captivating view you may never want to leave this idyllic hideaway.
The covered porches were designed and furnished with comfort in mind. They hold a small dining table, reading chairs and a porch swing to while away the rare rainy afternoon. A coconut shell bird feeder attracts a delightful group of finches in the mornings. The view to the south and east is of the eastern end of St. John, the neighboring British Islands and the Caribbean Sea. This peaceful spot has unforgettable sun rises as well as moon rises.
Amenities
Hot Tub
Snorkel Gear
Beach Chairs
Cooler
Beach Umbrella
BBQ
TV & DVD Player
Fresh Flowers
Robes, All Linens & Towels
Safe for Valuables
Wi-Fi Internet
Activities
We are happy to make suggestions for activities that suit your interests.  When you arrive at your cottage we will go over a map of the island and point out the best beaches, hiking trails, snorkel spots, etc.  Most activities can be arranged once you are on island but if you are planning a day on the water you may want to arrange that in advance.
Arrival
Sago Cottage is managed by on island owners. We will meet you on arrival, arrange for discounted car rentals and provide the personal attention you need to make your stay with us as pleasant and relaxing as possible. We can also arrange for a driver to meet your flight for the 50 minute ride to the Red Hook ferry dock.
Availability Calendar for Sago Cottage
Guest Reviews for Sago Cottage
Wendy and Jeff Holmes
02-26-2018
Sago Cottage of Calabash Cottages…what a very special place. We had an amazing time and everything was perfect and beyond expectations. The cottage is so comfortable and so beautiful and peaceful. All of the added touches from pretty cloth napkins, high ceilings, wonderful natural light, books on the shelf to soft sheets and a super
comfortable bed, lovely outdoor shower, beautiful garden, and a kitchen stocked with any utensil you might need for guests like us that like to cook, a hot tub under the stars…I can't say enough. The staff was fabulous. Susan and staff were attentive, informative and always available. This was our 6th time on St John… our first visit was 22 years ago. This most recent visit in February was after the island was hit with two category 5 hurricanes in the fall. Although it was very sad to see the destruction, we were really quite amazed at the recovery in such a short time. It is business as usual! Everyone we met throughout the island was warm and kind as always. The positive attitude, and the smiles…this was consistent, even after going through so much. St Johnians are resilient, hardworking and positive folks! The beaches are as beautiful as ever, and the island is green and lush.
The memories will sustain us until we return: We arrived at night, windows down and smelling the bay rum trees…"welcome back!!"…then the breezes, constant breezes throughout the cottage, the chorus of little Coqui tree frogs welcoming the night, a hot tub and a good long rest after travel…waking up with the roosters and watching the sunrise, drinking coffee and spying the pair of American Kestrels (small hawks) hunt right off the deck, all the wonderful little anole and geckos, Iguanas, wild donkeys, reading lots and lots of books on the deck, rainbows after a sprinkle of rain, numerous visits to Lameshur and Salt Pond beach and enjoying the wildness of the place, spying a Mongoose and its baby, taking in the warmth of the sun and floating in the water, the many stories from island residents, willing to share their own story of hope and recovery, …it will always be a magic place for us! Thank you Susan and thank you St John for welcoming us back.
Paradise Found!
06-04-2016
We have just returned from a fabulous week at Sago Cottage. A friend recommended this cottage, and it is actually more beautiful in person than in the online photos. The views of Hurricane Hole, The East End, and Tortola from the cottage porch are stunning. The cottage comes stocked with everything you need to enjoy the amazing St. John beaches: snorkeling equipment, beach chairs, umbrellas, towels, and coolers. We snorkeled every day at a different St. John beach. It was like swimming in an aquarium-the turquoise waters were teaming with fish, turtles, and rays. This was our first trip to USVI and the Calabash Cottages staff were so pleasant and professional to work with. They provided travel suggestions for a private airport taxi and a Jeep rental company that made the trip even more stress free. If you are looking for a very private and quiet getaway while enjoying the laid back Coral Bay end of St. John, Sago Cottage is the place to stay!
Our Response
Thanks so much for your review. My husband and I built about 90 percent of Sago with our own hands so even 20 years later we are always happy to hear how much guests enjoy there time there. I am sure A. and J. will be glad that their recommendation worked out for you. it sounds like you really made the best of the island. We hope that you come visit us again and promise to always work on maintaining and improving our amenities and services, All the best- Susan
Get Away from it all at Sago Cottage
04-22-2016
This was a great getaway week for my husband and me-we went for our birthdays! The cottage location is fabulous, with great views, privacy, and leaves you feeling removed from the rest of the world. Yet all the comforts of home are provided - well stocked kitchen, hot tub, nice towels & linens. As much as I loved the view from the front deck, the view upon waking up to the sun coming in the windows and looking out over the islands was even better! Groceries on the island are pricey, but the staff of Sago took us to the grocery store upon arrival and gave us advice on nice places to eat. Snorkeling was great every beach we visited. This is a great place to visit for active, laid back people who like to explore and aren't into staying at glitzy hotel type places. Boating is great here, too. Not a good island for biking as roads are curvy, hilly, and have tight bends to get around.
Our Response
Thanks for spending your birthday week with us and sharing your experiences for future guests. I'm glad that you enjoyed the sunrises- they are fantastic. Anyone who can schedule their trip around the full moon will also be treated to gorgeous moon rises. We do have lots of activities for adventurous guests but I agree that it's not ideal for biking. I am one of the few fools that actually do bike on the island but that doesn't make it a good idea:) I hope we see you again! Susan
A mesmerizing view
04-02-2016
We had a wonderful time at Sago cottage. It is so charming and comfortable and stocked with everything we needed, including beach and snorkeling equipment which were invaluable. Our favorite spot was sitting in the comfortable adirondack chairs on the deck and looking at that amazing view of the islands. And added to the beautiful view is the lush foilage surrounding the cottage which enhanced our enjoyment and was home to a variety of birds. We especially enjoyed feeding sugar to the pretty little bananaquits which were frequent visitors. As much as we enjoyed all the activities of the day, i.e. swimming, snorkeling and hiking, we always looked forward to returning to "our" chairs on the deck and enjoying the view. The service of the Calabash staff cannot be beat and they were so prompt with any questions we had. I could not imagine a better staff and a more lovely spot for our first trip to St. John.
Our Response
What a beautiful description of your week at Sago. I am s glad that you appreciated all the cottage and the island had to offer. My husband and I did almost all of the construction of Sago Cottage. It was truly a labor of love so we are so happy to hear from guests that enjoyed a peaceful happy week there. We hope that is you come back to the island we will see you again. Thanks for your review- Susan
Loved our time at Sago!
SVanderveer
02-23-2016
My husband and I had such an awesome time at Sago cottage. It was exactly what we were looking for in a romantic, fun filled honeymoon. The house was beautiful and very well maintained. I would love to come back some day to stay at Sago in Coral Bay!
Our Response
Thanks for trusting us with your honeymoon. I am very happy that you enjoyed your stay. Thank you for sharing! I hope we see you again. Susan