Reef Safe Sunscreen: St John Virgin Islands.  You love snorkeling our reefs, right? We want to help you help protect them and your body in the process. Using reef safe sunscreen is an important first step to take. Many people are aware of the damage our reefs received during hurricane Irma and Maria. They need our help to fully recover. To be honest these wonderful public lands (much of the island is owned by the National Park) would not be available if they were not sustained by the love of our visitors. Fortunately, many of our visitors actively want to participate in their preservation. Most repeat visitors to the island know the basics: Don't step on or touch the coral, DO NOT ride sea turtles. (Did I really have to say that? But it has been happening…) Watch and enjoy the marine life but do not disturb. But it is really only recently that people have begun to realize the extent of the harm that has been caused by the sunscreens.
Many of us are aware that sunscreens that damage reefs are no longer legal in Hawaii as of this past May. The Caribbean, and hopefully St John will be next on the list.  I am hopeful that the loyal St John visitors will get on the bandwagon even before legislation is in place.
We at Calabash Cottages have done extensive research on the best products on the market. Others may have their own personal favorites but we chose Sea2Stream. Several product lines have the same ingredients but as we also hate disposable plastic we were happy to see that their bottles are made of sugar cane resin. Each of out cottages will now be stocked with a bulk sized container of Sea2Stream sunscreen plus three ounce refillable bottles that are perfect for a beach day.
Downside: Yup, you will need to spend a few minutes rubbing the lotion in unless you like the ghost look. But the bonus is that what's better for your reefs are also better for your body.
If you have a favorite environmentally "safe" sunscreen please bring it along with you especially if you are staying at a rental home that does not provide it. You can also purchase Sea to Stream products at the Friends of the National Park Store in Mongoose junction.
BTW "reef friendly" and "reef safe" should not be used interchangeably. Always check the ingredients list.
List of ingredients to avoid
Oxybenzone
Octixonate
Oxtocrylene
Butylparaben
Octinoxate
4-Methylbenzylidine Camphor
If you aren't planing a trip to the Caribbean it's still important to to protect every ocean, river or lake the you swim in. Here are some reviews and lists of environmentally safe products to choose from: https://www.chasingcoral.com/2018/05/23/reef-safe-sunscreen-need-know/
The time has long past where we can tell ourselves that "this little bit won't matter. It will. Really. Consider this:
"My sunscreen is a drop in the bucket. It can't possibly make a difference…Or can it?
"Any small effort to reduce oxybenzone pollution could mean that a coral reef survives a long, hot summer, or that a degraded area recovers," Downs adds. Not to negate the other very real threats to our oceans like coastal pollution, climate change and overfishing, but the informed consumer can no longer believe they cannot make a difference. The study showed that miniscule concentrations — about 62 parts per trillion — damaged nearly half of the coral larva exposed to it in a lab setting and researchers documented significantly higher concentrations in waters near reefs in Hawaii and the Virgin Islands. Have a hard time visualizing that concentration? It's roughly the equivalent of a drop of water in six Olympic-sized swimming pools"
If you truly want to reduce your reliance on sunscreens in general consider covering large swathes of your body in rash guard and wearing a large brimmed hat when you are not in the water. They are readily available at Vanessa's store, Mumbo Jumbo located in the Skinny Legs complex as are shade umbrellas. Calabash Cottages does prove shade umbrellas for all of our guests at our cottages..
Seeing the hit our beloved island took in 2017 reminds us that we need to do what we can to reduce human impact whenever possible. And to remind us of what we are protecting here is a is some eye candy for your enjoyment 🙂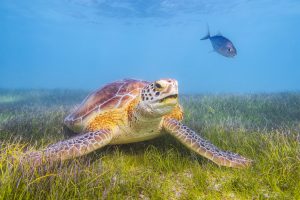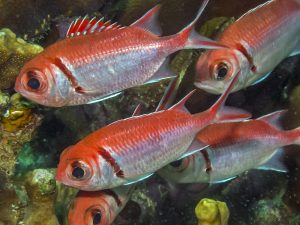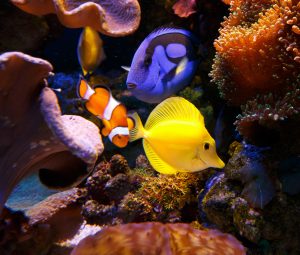 www.CalabashCottages.com