When:
January 15, 2020 @ 7:30 pm – 10:30 pm
2020-01-15T19:30:00-04:00
2020-01-15T22:30:00-04:00
Where:
St. John School of the Arts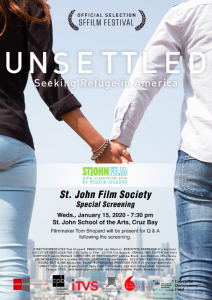 UNSETTLED is a feature-length documentary revealing the untold stories of LGBTQ refugees and asylum seekers who have fled intense persecution from their home countries and who are resettling in the U.S. The film follows four new arrivals, each of whom have escaped potential peril in their native countries for being different. They've landed in the purported "gay mecca" of San Francisco, yet even there, building a new life in an adopted nation is a precarious undertaking. As new leadership in America continues to restrict immigrants and drastically cut the flow of refugees and asylum seekers, UNSETTLED sheds light on a group about which few people know. What are the costs persecuted immigrants pay for seeking refuge? And how are everyday Americans stepping forward to help those most in need?
FILMMAKER TOM SHEPARD WILL BE PRESENT FOR Q & A