When:
December 3, 2022 @ 9:30 am – 10:30 am
2022-12-03T09:30:00-04:00
2022-12-03T10:30:00-04:00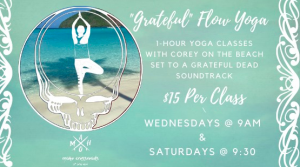 Wednesdays at 9 am & Saturdays at 9:30 am, join Corey at Maho Crossroads for a Grateful Dead inspired flow. Drop ins welcome! Rental mats available for $5.
What's better then doing yoga on the beach? Listening to the Grateful Dead while doing yoga on the beach ! Stretch and shake your bones to a different live show each time with a yoga sequence lovingly prepared by local dead head Corey! All levels of practice are welcome to join us in enjoying what a long strange trip a yoga class can be!
While the music plays the band let inspiration move you brightly until there is nothing left to do but smile smile smile & stretch